This resource is also available in French. Click here to access the French version.
This blog post is part of a series written by participants in the Tamarack Institute's 2022 Community Climate Transitions Cohort, a 10-month learning journey in which multisector teams from 19 communities across Canada explored a collective impact approach to climate transition. See the full list of posts here.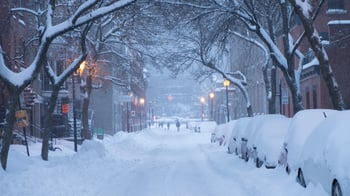 Who are we?

Partenariat Climat Montréal (PCM) is a small team serving a large network of partners who are committed to climate change action and adaptation in Montréal. Our mission is rooted in the following observation: the City of Montréal, and no other city in the world, can achieve its climate targets1 on its own. It requires the support of the community, who must get on board and take significant action, particularly in terms of transportation and buildings, which account for 68% of the city's emissions.
So that's what we're doing, we're progressively engaging each sector and each key actor to ensure that concrete actions are taken, that a ripple effect is created in the value chains, and that the business culture shifts to putting climate transition at the heart of management decisions. More specifically, this means:
A hundred or so organizations of very different sizes and backgrounds engaged in less than two years, from the economic, philanthropic, institutional, and community sectors.
Regular and sustained involvement of a Steering Committee, made up of 26 senior executives from organizations recognized for their commitment to the climate question and their capacity for influence.
The coordination of thematic working groups, whose mandate is to identify and implement a collective initiative to accelerate the transition in the following strategic sectors: construction, transport, finance, climate change adaptation, businesses, and citizen projects.
The organization of a first annual Climate Summit, bringing together more than 500 people and more than 40 panelists on a wide range of topics. The Summit provided a platform to make major and ambitious announcements, both from the City of Montréal and from influential organizations such as Ivanhoe Cambridge and the Montréal Public Health Department.
What is the magic formula?
There is no magic solution, but Partenariat Climat Montréal has been inspired by the best international engagement practices, notably the Boston Green Ribbon Commission and the London Business Climate Leaders, and more recently by communities participating in the Tamarack Institute's Community Climate Transitions Cohort, to develop its own model specific to Montréal's context.
Adopting a neutral, independent approach, with a roadmap designed in co-construction with the actors on the ground to the greatest extent possible, has been shown to be a solid condition for success. This gives us great flexibility to test things and seize opportunities to accelerate action among our partners when they arise. We aim to create links at the crossroads of several networks and break down silos to get out of traditional collaboration patterns. This is not always easy, and we often need to take time to develop a common language to better understand one another's issues and find collectively beneficial solutions.
We also rely on close collaboration with the City of Montréal to advance in the most coordinated way possible. The City's leadership and example are extremely powerful drivers for engaging civil society, and must continually motivate us to take action and meet the challenges we face.
1 The City of Montréal has set a target of reducing its greenhouse gas emissions by 55% by 2030 and achieving carbon neutrality by 2050 (Climate Plan 2020-2030).