This resource is also available in French. Click here to access the French version.
This blog post is part of a series written by participants in the Tamarack Institute's 2022 Community Climate Transitions Cohort, a 10-month learning journey in which multisector teams from 19 communities across Canada explored a collective impact approach to climate transition. See the full list of posts here.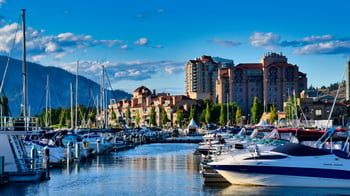 Kelowna is located on the traditional, ancestral, unceded territory of the Syilx/Okanagan people. It is the largest municipality in the Interior of BC, with a population over 145,000 people, and is already experiencing predicted climate shifts of hotter, drier summers; intense weather; and more precipitation.
These shifts have resulted in devastating wildfires, blankets of smoke, extensive flooding, drought and heat domes causing millions of dollars in damages to infrastructure and private property, financial impacts to tourism and agricultural sectors, health challenges and sadly even loss of life.

In 2018, Kelowna City Council endorsed Kelowna's Community Climate Action Plan, a five-year strategy that identified actions to reduce Kelowna's community greenhouse gas emissions. With this strategy nearing its end of life, the City has initiated a process for its successor: a Climate Resilient Kelowna Strategy (the Strategy). The intent of the new Strategy is to identify actions to mitigate community GHG emissions, as well as identify actions to help the community adapt and build resiliency to extreme heat, more intense and hotter fires, increasing water shortages, more smoky days, and flooding.

Tamarack's Climate Transition Cohort opportunity came at an ideal time, so that the learnings from this cohort could be applied to the development of the new Strategy. Building off a successful relationship from a previous project, municipal staff, the Global Empowerment Coalition of the Central Okanagan (GECCO) and the Pacific Institute for Climate Solutions (PICS) joined the cohort. Early in the cohort it became evident that developing a new Strategy would benefit from a more diverse team, and Okanagan Sustainability Leadership Council, Thompson Okanagan Tourism Association and the Provincial Climate Action Secretariat joined Kelowna's cohort team.

The Cohort has provided a valuable foundation to create a Strategy that will have the best chance of successful implementation. The knowledge gained from the collective impact cohort session and further coaching session will be applied in developing a community working group where we can create more aligned decision with shared accountability. Other sessions on data have illustrated that building relationships with other groups and institutions can provide access to different data opportunities that may provide an impactful approach for evidence-based decision making.

The Cohort experience will provide ongoing benefits beyond developing a new Strategy for Kelowna. Staff from PICS and the Provincial Climate Action Secretariat have garnered a better understanding of barriers, gaps and capacity issues that communities and local governments are facing. Further insights were gained from the Cohort that there is not a "one-size fits all" model. Different climate governance models (i.e. community/NGO led versus local government led versus a combination) require different relationships. Moving forward, these insights will assist the Province and PICS to develop programs and support initiatives in alignment and partnership with communities to advance climate action.

The biggest impact of the Cohort for us, is witnessing the diverse backgrounds of the other cohort members and how each have uniquely contributed to different successes across the country, and how these successes may be able to be applied in the Kelowna context. It has showcased the importance of continuing to cultivate relationships to gain traction on climate action.