This year marks the 20th anniversary of the Business Community Anti-Poverty Initiative (BCAPI), a progressive movement of the Saint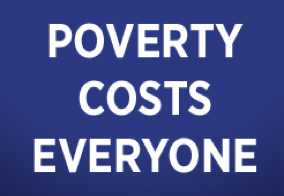 John business community to help the city end generational poverty.
BCAPI's call to action was ignited by its founder, Bill Gale, a retired RBC executive, who was deeply concerned about Saint John's 27 per cent poverty rate in 1997, despite prospering economic conditions. Bill brought together 40 of Saint John's most senior business leaders and asked them to help solve a serious issue that was the root of social malaise and lost economic productivity in the city. "Business leaders willingly said yes because we knew it was the right thing to do and believed we could help," said Derek Oland, Moosehead Breweries.
People who live in poverty, particularly single-parents and their children, were BCAPI's first and best teachers. Their realities helped BCAPI to see why, despite their best efforts, families were trapped in poverty. They faced a wall of unmet basic needs relating to income, education, health, employment and inclusion. Business leaders agreed they hadn't understood the depth of the problem; lifelong poverty was unacceptable and business must help to change this picture.
Breaking the cycle of poverty became BCAPI's mission and tackling root causes became BCAPI's focus of work. "Business leaders are not poverty experts so the first years of BCAPI's existence were steeped in learning about the systemic causes of poverty and what local leaders can do to turn the ship around", said Gary Lawson, Lawson Creamer. "We decided our work must lift people out of poverty, rather than band aid the symptoms."
BCAPI's initial contribution was a poverty study in 2000. Commissioned by BCAPI, funded by J.D. Irving, Limited and led by Deloitte, it described Saint John's poverty situation and identified best practice opportunities to help families break out of the poverty cycle. The study became Saint John's first roadmap to eradicating lifelong poverty.
Over the years, Saint John's strategy to end generational poverty has consistently grown, evolved and advanced. "BCAPI, by partnering with the Saint John community, has helped to build awareness and leadership for this important work and has added business expertise and assets to help families progress with their education, living conditions and employment," said Tom Gribbons, RBC Dominion Securities.
Saint John's innovations through the collective work of people who live in poverty, community organizations, businesses and the municipal government has attracted the participation of senior governments and their assistance with revenue sources, policies and practices that support Saint John priorities. Across the nation, like-minded Foundations and the national Vibrant Communities/Cities Reducing Poverty movement have been significant mentors and contributors to Saint John's progress. "Saint John tries to learn from the best and then organize local leadership to act in useful ways that work for our children, our families and our city," said Brice Belyea, CANLink Aviation Inc.
'Help every child succeed' has become a BCAPI priority. BCAPI has focused its efforts on closing the education gap for low income children because education is the most powerful predictor to living a good life. Additionally, an educated population benefits everyone - businesses, communities and the nation.
Year by year, the local business community has been helping Saint John put in place best-practice interventions in early childhood, early literacy, enriched education, and high school success that enable children to thrive, from cradle to career. "Low-income families must be supported in effective ways so that all children can achieve education outcomes that lead them to life success," said Roxanne Fairweather, Innovatia.
The work is accomplished through joint leadership between the school district and community. Local businesses and their employees contribute by partnering with schools, neighbourhoods and community organizations to enrich the educational environment for Saint John children. "A child's education success is fundamental to breaking the cycle," said J.K. Irving, J.D. Irving, Limited.
Fast-forward to 2017. The city's poverty rate now hovers at 20 per cent, still too high, but Saint John sees the progress and absolutely knows it is on the right track to ending generational poverty. "Today, BCAPI is part of a much larger movement, led by Living SJ – a multi-sector leadership table that includes not only business but also non-profits, residents and government. Together we are determined to get the job done," said Paulette Hicks, Delta Brunswick.
Building leadership from every sector is Saint John's magic key to progress. Business is one vital partner and Saint John has found a way for business to engage. "BCAPI is the business platform and catalyst that expands our business community's understanding, involvement and investment in ending generational poverty," explained Charlie Harling, Bell Canada.
The newly launched federal initiative, Tackling Poverty Together Project, has named Saint John as one of six cities to be studied. The Honourable Jean-Yves Duclos, Minister of Families, Children and Social Development, after his visit to the city, said "Saint John has a model to show other Canadians." He pointed to Saint John's high level of collaboration between community leaders, business leaders and political leaders as something that sets it apart from others. (Telegraph Journal, September 4, 2016. Saint John could offer many lessons, federal minister says.)
For two decades BCAPI has been learning about poverty and helping to make critical advances in reducing poverty and the work will continue until no child, ever again, suffers a lifetime of poverty. Because as founder Bill Gale declared upon BCAPI's inauguration: "We must refuse to fail."
This blog was provided by Sheri Somerville from the Business Community Anti-Poverty Initiative.
Learn More: