UBI Works, an organization representing over 40,000 basic income advocates, has launched their proposal for a national basic income, Recovery UBI. Their plan bridges the gap between current pandemic supports and an eventual long-term basic income that would address the inadequacies in Canada's current social safety net. It would provide all Canadian adults (no matter their income or existing supports) with $500/month and further establish a guaranteed minimum income to address the persistent poverty currently trapping so many Canadians.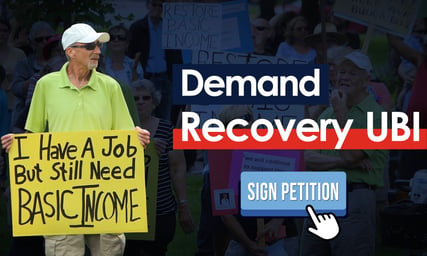 This guarantee would ensure a $2000/month income for single adults, and $3000/month for couples, with the benefit reducing by $0.50 for every dollar of family employment income, and by $1 for every dollar of other family income. A petition calling for the implementation of Recovery UBI, found at ubiworks.ca/recovery, notes that COVID-19 revealed just how many low- and middle-income households were facing extreme financial precarity heading into the pandemic. Many are now at risk of insolvency as the induced slowdown exposes the consequence of decades of stagnant wage growth and rising costs of living. Now facing another recession, Canadians are asking what, if anything, their government will do differently.
Previous economic recoveries were highly polarizing, wiping out middle-class jobs, pushing more Canadians into low-income work and further concentrating wealth. If the government does not adopt a new approach, the current recession will certainly intensify these trends as businesses accelerate their investments into automation, which can already replace 40% of tasks Canadians do at work today.
It is no wonder that a 2020 poll conducted by Angus Reid showed that 59% of Canadians support establishing a basic income and that parliamentarians from all parties have become increasingly vocal in declaring their preference for such as program as well.
Recovery UBI has been designed to act as a significant stimulus to the economy, thereby alleviating many of the impacts of recession while empowering Canadians to build better incomes, better careers, and better businesses. It is designed to be enacted quickly and affordably by augmenting existing supports without the need to consolidate equivalent provincial or federal programs. It is affordable. At a projected cost of $199 billion, it is roughly equal to the government's predicted COVID related spending for the present fiscal year. It can therefore be funded without raising personal income taxes, eliminating social services, or adding to the national debt as outlined in several funding proposals presented alongside the plan.
According to UBI Works, Recovery UBI sets the foundation for a future where opportunity is accessible by all. With it, Canada can stimulate demand for new jobs and new businesses. It will provide all Canadians the ability to participate in the recovery of their country and the creation of stronger, more resilient communities. For more information visit ubiworks.ca/recovery