Cities Reducing Poverty (CRP) is a powerful collective impact movement that has grown to support more than 330 municipalities represented by 80 regional roundtables. Members adopt collective impact approaches to drive long-term change and develop and implement plans to reduce poverty in their communities.
They ensure that all sectors are brought to the table, harness the assets of their communities, and realize powerful outcomes. We have learned that to reduce poverty, it takes the whole community and our entire country working together.
Highlights of our work over the last five years include:
One Million Fewer People Living in Poverty
CRP's primary goal since 2010 was to contribute to poverty being reduced for 1 million Canadians. This goal was realized in of March 2020 (pre-COVID-19), when the Government of Canada announced that between 2015 and 2018, poverty had been reduced for more than 1 million Canadians. Our regional members have also demonstrated real success in reducing poverty in their own cities and communities. Between 2015 and 2018, poverty rates decreased in 10 of 14 CRP regions, with the most notable reductions were seen in Saint John (from 19.5% to 14.0%), Toronto (from 19.2% to 13.9%), and Winnipeg (from 15.5% to 12.0%).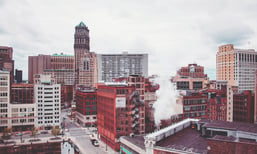 CRP Has Realized Significant Growth:
CRP has developed a critical mass, forming what is essentially the largest network of cities working and learning together in the world. Between 2015 and 2020, CRP nearly doubled in membership, from 45 members and 1,200 changemakers (individuals that learn from our case studies, research, events, webinars, and publications) in 2015, to 80 members and 6,337 changemakers in 2020. Notably, our Western membership has now grown to equal our Eastern membership. In a 2019 article published in the New York Times, acclaimed columnist David Brooks noted that CRP had created a unique approach that was truly working to end poverty.
Supporting Provinces and Territories
CRP is working with provinces and territories that are making a real difference in reducing poverty. Between 2015 and 2020, eight provinces and territories (SK, NV, PEI, NWT, BC, MB, ON and NB) either developed or renewed their poverty reduction plans. Poverty rates decreased in all ten provinces between 2015 and 2018, with the most significant reductions seen in New Brunswick (6.1%) and British Columbia (5.7%). Recommendations from CRP members in Alberta contributed to 22 policy changes, including the recommendation for a provincial child benefit. CRP also helped to inform the B.C. government's Poverty Reduction Planning and Action program, which has committed $5 million to local governments, through which all 14 CRP members that applied for its first funding round were successful in their applications.
Advancing Policy Changes to Reduce Poverty
CRP has actively advanced progressive policy changes with all levels of government. For example, members have met for over a decade to learn about and shape discussions and policies around minimum wage, Living Wage, and Basic Income. Over the last five years, Nunavut increased its minimum wage to $16.00 per hour, Alberta to $15.00, BC to $14.60, and Ontario to $14.25. Two considerable wins for the network were Côte-des-Neiges—Notre-Dame-de-Grâce developing a poverty reduction strategy after attending our 2016 summit, and Hamilton's mayor announcing the city's 10-year plan to invest $50 million in poverty reduction at our 2017 summit.
Supporting Canada to Launch its First Poverty Reduction Strategy
CRP worked directly with Employment and Social development Canada (ESDC) to support 27 CRP members to host 33 community consultations in their cities – the most of any organization in Canada – across 9 provinces and territories that reached more than 600 people. Former Minister of Families, Children and Social Development, Hon. Jean-Yves Duclos, noted that "Tamarack (CRP) has been a key part of the Poverty Reduction Strategy...and were instrumental in providing us with grassroots, on the ground, community level feedback."
CRP Accelerated Learning and Grew Impact
CRP, with the direct support of the Tamarack Institute, has become a top resource in Canada for place-based poverty reduction thinking and action. Our work has been recognized by many awards, including an Order of Canada. We were profiled in the Philadelphia Citizen as an idea the U.S. should "steal". We are particularly proud our work elevating the wisdom and perspectives of people with lived/living experience of poverty. TEN – A Guide for Engaging People with Lived/Living Experience of Poverty, which was developed by an advisory committee of lived/living experience experts, was Tamarack's top publication of 2019, and is approaching 10,000 downloads.
CRP is proud of what we have accomplished together over the last 5 years. While 2020's COVID-19 pandemic introduced an unprecedented challenge, the CRP network has responded nimbly with incredible responsiveness and resilience.
Over the next few months, as we build momentum for our 2021 End of Poverty virtual national summit, CRP will be engaging content and context experts in articulating 10 Ending Poverty Pathways.
With more cities joining the CRP network, every year, we are confident that the solid foundation that we have built together for this work, will serve as the critical support we need as we continue to amplify our contribution toward ending poverty in Canada.
Learn More: