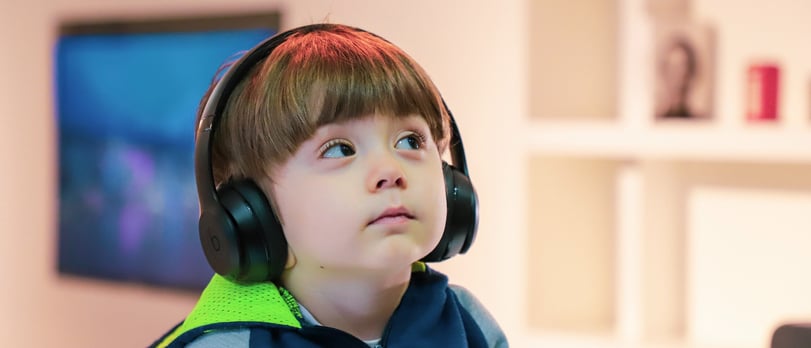 This resource is also available in French. Click here to access the French version.
There's no doubt that awareness of climate change has grown significantly in recent years. From 'cli-fi' speculative fiction to climate-aware songwriting, this planetary crisis seems to have finally become a fixture of both popular culture and of our collective imagination.
To celebrate what feels like an important milestone for inclusive climate action, over the course of the year the Community Climate Transitions (CCT) team will be publishing a series of articles celebrating and spotlighting some of the best works of climate journalism, fiction, and art across a variety of media and formats.


Sixteen episodes
First up is a deep dive into the world of podcasts, featuring a diversity of programs and episodes each devoted to a particular facet of the climate crisis.
We've curated 16 rich episodes that will take you on a three-part journey. We'll start by covering the basics of climate change, illuminating its impacts on everyday aspects of our lives such as social media use, grocery shopping, and banking. We'll learn from the intersectional leadership of Indigenous and other frontline communities, and we'll conclude with an exploration of climate activism as a source of connection, joy and purpose through interactive experiences that engage heart, body, mind and soul.
Read along to discover some of the most exciting climate podcasting of these recent years or immerse yourself in the full sound experience by playing our playlist on Spotify.
Happy listening!
Climate Change for Beginners (Extinction Rebellion)
As the title makes clear, this is a podcast for anyone who has ever wondered about the basics of climate science and the intricacies of climate action. With bite-sized episodes of 5 minutes or less, host Ciarán O'Carroll of Extinction Rebellion answers the most frequently asked questions about climate change, turning listeners from beginners to experts. In this episode: what exactly is Net Zero?

The Climate Question (BBC)
The Climate Question is a global podcast produced by the BBC that helps 'climate-newbies' become climate-savvy. As they put it, "it is not about questioning whether climate change is happening, it's about finding the best ways to respond to it."
In this episode, the show brings a critical look at influencer culture. From social media-fueled consumer sprees to eco-influencing and more, what they find might surprise you.
Hot Take (Critical Frequency)
One of the first and most beloved podcasts on the climate crisis is Hot Take, co-hosted by acclaimed climate essayist Mary Annaïse Heglar and investigative climate reporter Amy Westervelt. While the podcast ended its final season in 2022, its archives (and dedicated online community) remain a treasure trove of vital climate information.
Listen to this episode to learn about the food and climate connection, what the hosts call "weird food trends", and lots more.
What on Earth (CBC)
This CBC podcast is on a mission "to relieve you of the existential dread you might feel about climate change". How? By hunting down climate solutions that work––and showing you how you can be part of the action.
Try their episode titled 'Sleuthing for GHG at the Grocery Store' to learn about the fascinating connections between rising food prices, deep sea mining, draught .... In short, everything but the kitchen sink!

How to Save a Planet (Gimlet Media)
How to Save a Planet is no longer in active production, but that doesn't mean we can't keep learning from its long list of calls to action (find the archive here.) Hosted by journalist Alex Blumberg and scientist Dr. Ayana Elizabeth Johnson, the show set out to find solutions guided by a deceptively simple, infectious question: "What if there was a show about climate change that left you feeling ... energized?"
Listen to this episode to learn about what to do if your retirement savings are supporting oil and gas companies, pipeline operators, or utilities with coal-fired power plants. It's more common than you think!
Damages (Critical Frequency)
As a podcast that follows the hundreds of climate lawsuits currently unfolding all over the world, Damages describes itself as "Law & Order meets the climate crisis."
In its launch season, the podcast delved into rights-of-nature laws that have been introduced in several countries around the world. Rights-of-nature is a legal concept that incorporates Indigenous approaches to nature into Western judicial systems by giving ecosystems the same rights that individuals have.
Listen to 'The Cloud Forest vs The Mine' to learn about how Ecuador became the first country to adopt rights-of-nature into its constitution. Canada, are you listening?



7. Ologies with Alie Ward (Independent Production)

Science communicator Alie Ward is on a mission to interview experts from every '-ology'... and has accumulated an impressive archive along the way! In this episode, hear her interview Indigenous fire scientist Dr. Amy Christianson, co-host of the podcast Good Fire. Together, they explore the history of Indigenous Fire Ecology, discuss land stewardship, explore forest-based climate strategies, unpack wildfire education, and everything in between. Come for the facts, stay for the warmth (pun intended!).

Mothers of Invention (Doc Society)
We love this show's tagline: "Climate change is a man-made problem—with a feminist solution!"
Hosted by former Irish president Mary Robinson, comedian and writer Maeve Higgins, and a rotating cast of (mostly) women from around the world, Mothers of Inventions explored the stories of Black, Brown and Indigenous women and girls who have been innovating from the frontlines of climate change for generations.
In Under the Weather, the hosts discuss the impacts of climate change on public health. We meet a Black Lives Matter activist who believes that Black neighbourhoods would be safer with less policing and more trees. We are introduced to Siwatu Salama-Ra, a prolific environmental justice campaigner incarcerated in Detroit, and hear from a Traditional Custodian of the Fitzroy River in Western Australia about our spiritual connection with nature.
Race Against Climate (National Observer)
Looking for homegrown climate solutions? This podcast by the National Observer was nominated for the 2022 Best Climate Solutions Reporting award by the Canadian Journalism Award, and it features "stories and solutions you won't hear anywhere else."
Don't miss this episode if you're curious about how to power a transition to a decarbonized world. Linda Solomon Wood chats with climate campaigner Catherine Abreu on what it will take to transform the power grid. And solar-power champion Melina Laboucan-Massimo speaks on the strength of Indigenous-led renewables.

OnBeing with Krista Tippett (OnBeing Studios)
If there's one thing that growing climate awareness is making clear these days, it is that we're not alone. In this episode, author and activist Rebecca Solnit lends her singular vision to the often-unappreciated truth that "purposefulness and connectedness bring joy even amidst death, chaos, fear, and loss." Based her extensive research of community-based solidarity in times of crisis and disaster, Solnit and host Krista Tippett celebrate the unpredictable and vital ways in which caring for one another helps us not only survive, but thrive, in unprecedented times.
Inherited (YR and Critical Frequency)
Inherited is a climate storytelling podcast by, for, and about young people. Its episodes offer sound-rich stories from a generation on the climate frontlines intent on building momentum, pursuing tangible solutions, and finding community along the way.
Listen to this episode to participate in an experimental environmental movement meditation, hear from young African activists excluded from the climate conversation, and more.
For the Wild (Independent Production)

As an "anthology of the Anthropocene", For the Wild boasts an impressive archive of interviews with some of today's leading climate thinkers and activists.


In Deprogramming from Grind Culture, host Ayana Young is in conversation with Tricia Hersey, author of the book Rest is Resistance: A Manifesto. Together, they "unwind the complicated ties of exhaustion and exploitation", and unpack their links to environmental degradation.
A Matter of Degrees (FRQNCY Media, The 2035 Initiative at UC Santa Barbara, and The All We Can Save Project)
A Matter of Degrees is a vibrant podcast inviting you to "give up your climate guilt and sharpen your curiosity". Hosted by energy and climate policy expert Dr. Leah Stokes and co-founder of the All We Can Save project Dr. Katherine Wilkinson, the podcast brings together today's climate leaders to present bold solutions, and celebrate the growing climate movement.
Listen to How to Cope with All the Climate Feels to learn about supportive practices such as Joanna Macy's The Work That Reconnects and embodied somatics, as well as mental health frameworks to help you take care of yourself while you take care of the planet.
What Could Possibly Go Right? (Resilience.org)
Resilience.org is a program of Post Carbon Institute, a nonprofit organization dedicated to helping the world transition away from fossil fuels and build sustainable, resilient communities.
In this podcast, author and activist Vicki Robin asks 'cultural scouts' a single question: what could possibly go right? These short, deep-dive conversations are exactly the kind of inspiration and motivation we need to "see more clearly, act more courageously, and better serve the common good."
To get started, try this episode with long-time environmental advocate Joanna Macy titled Treasuring Your Emotional Connection to the World.
The Joy Report (Intersectional Environmentalist)
Climate activism isn't easy, but it's not all doom and gloom either. This podcast shares stories about climate solutions and environmental justice grounded in intersectionality, optimism, and joy.
Tune into this episode to learn about the formidable renewable energy generated by cultivating joy in activism, advocacy and movement-building. It will leave you refreshed and motivated to keep fighting the good fight!

Emergence Magazine Podcast (Emergence Magazine)
We love Emergence's take on podcasts. With a signature blend of interviews, author-narrated essays, fiction, and interactive experiences, the show gives life to "regenerative spaces of creation and renewal" that engage our whole self in ever-creative ways. Rooted in the belief that "it has always been a radical act to share stories during dark times", the podcast explores the timeless connections between ecology, culture, and spirituality.
For Sanctuaries of Silence, their episode with celebrated, Emmy-award winning acoustic ecologist Gordon Hempton, you're going to want to put on your headphones, turn the sound on, and take yourself in a truly immersive walk––preferably in a forest of your own. Or make your video full screen and explore the episode in 360-degree view or Virtual Reality. You won't regret it!