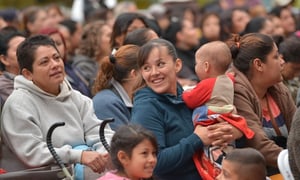 January 2018 marked the launch of an innovative new approach to mobilizing non-traditional leaders – those context experts whose wisdom, knowledge and action is essential to the success of any sustainable community change effort. Leadership Without Limits (LWL) was created in response to the observation made by Promise Neighborhood of the Lehigh Valley (PNLV) that "the leaders we have are not the leaders we need and do not represent the community." LWL has been designed to address this leadership gap by preparing emerging leaders to lead effectively with integrity in this 21st century multi-cultural society.
Unlike other resident leadership programs that work with residents "closest to the pain" and focuses heavily on understanding and impacting systems through advocacy, the residents recruited for Leadership Without Limits were people who have made it out of the pain, but still have a heart and connection for the community. LWL participants were chosen because they have an interest in running for office; being the CEO of a major local institution; and/or establishing the non-profit of their heart.
Twenty-four resident leaders from LWL's first cohort each demonstrated a hunger to improve their leadership skills, the availability to attend the 8-week leadership classes, a commitment to giving back to their community, and a willingness to be in both learning and teaching mode. We chose students who knew they had a lot to learn and a lot to share. A majority of the individuals who completed LWL's first class are millennials however the class was truly intergenerational with ages ranging from 20 – 60.
The design of Leadership Without Limits reflects the belief that leaders lean into their vulnerability, rather than hide it. For example, one of the questions on the application was: What do you need to heal within yourself so you may be the best leader possible? Another unique design feature is that the program's co-leads are full participants in the program with their students.
Promise Neighborhoods of Lehigh Valley, who led the development of LWL's curriculum, did so in relationship with the community. The design included two advisory groups. The first advisory group consisted of seasoned community organizers. The second advisory group included community leaders and champions including: the Allentown School District Superintendent; a number of profit and non-profit CEOs, academics and funders. The Leadership Without Limits curriculum has three phases:
Self-Discovery, Information & Support

– This phase includes the interviewing and selection applicants who then participant in 8 weeks of leadership classes that begin with a one-day Storyhealing session recognizing that writing, telling and performing a story of importance from your life is informative and instructive for self and others. The Storyhealing session ends with an evening performance for more than 100 residents of the community where participants shared these stories. Phase one also includes a mentoring component with each student receiving three months of one-on-one support from a mentor who currently plays a leadership role within the community.
Community of Practice (Courage and Vulnerability) –

During this phase students attend monthly meetings where they are expected to both lead and contribute. Membership in the Community of Practice include students from the class and the general public, which can include seasoned leaders and dignitaries. It is an opportunity to practice leadership amongst friends and those the student admires. Facing your peers and those you admire, takes courage and the willingness to be vulnerable. These are leadership characteristics that must be practiced if one is to internalize them.
Fireside Chats (Demonstration of Excellence)

– These quarterly talks feature guest speakers – leaders who lead without limits – individuals of distinction and excellence whose stories inspire and provoke our LWL graduates to think creatively, boldly, and fearlessly about ways to make an impact. These guests inspire our students to look beyond what they know to imagine what can be; share innovative ideas and lessons learned by experience; and, introduce our emerging leaders to fellow changemakers who become part of their own network and remind them they are not alone.
The tagline for Leadership Without Limits – An investment in you is an investment in the world – is both an affirmation and a challenge to this growing network of non-traditional leaders. Our neighbors and communities need their passion, their wisdom and their leadership. The Leadership Without Limits initiative also reminds us that the meaningful participation of context experts in community change efforts requires deliberate thought, investment and infrastructure to become a reality.
Learn More: