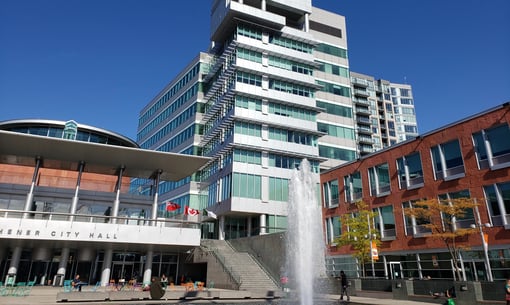 In February, the Minister of Families, Children and Social Development, the Hon. Ahmed Hussen, and the Minister of International Development, the Hon. Karina Gould, launched Canada's 2030 Agenda, National Strategy. The strategy provides a vision for engaging Governments, Civil Society, Private Sector, Academia, and International partners to meet our commitments to build a more peaceful, inclusive, prosperous, resilient and sustainable world that is people centred.
An important part of Moving Forward Together- Canada's 2030 Agenda National Strategy creating a whole-of-society approach is connecting SDG work to local communities. In their action plan, the Government of Canada highlighted the work of the city of Kitchener as an exemplar in this effort. As part of its Strategic Plan, Kitchener has connected each action statement in its plan to at least one SDG. As highlighted in Tamarack's 10 - A Guide for a Community-Based COVID Recovery, Kitchener has recognized that climate change will have a greater impact on those most vulnerable and is working to incorporate the SDGs throughout its governance and decision-making processes and is developing partnerships to support innovative approaches at the local level.
The City of Kitchener is also developing a tool to highlight the city's progress. This innovative dashboard will be used to make the SDGs more accessible for the public to understand and work toward collective action. By engaging in this work, Kitchener is making it easier for a whole-community approach to building a city that is prosperous, equitable and reduces poverty while addressing climate change through their SDG work.
The City of Kitchener is already a leader in reducing its greenhouse gas emissions. Over the last decade, the city has reduced its emissions by a quarter. During the pandemic, Kitchener focused on five community-identified goals from its Strategic Plan. This work included converting some streets to provide People-Friendly Transportation options, investing in energy-efficient retrofits and vehicles, and enabling patio expansions to support a vibrant economy.
Throughout both the announcement and the recognition of Kitchener's work in the Moving Forward Together strategy, it is clear that the complexity of addressing sustainable development to build a society that is prosperous, fair, and equitable while combating climate change will require local action across sectors for collective action and impact. At the same time, communities will need to elevate the voices of the most vulnerable, as they will be the greatest impacted by climate change and actions taken toward mitigation and adaptation.
Learn More: