Last Fall, Tamarack's Paul Born visited Orillia and presented at the City's Georgian College Campus. While there, Paul praised the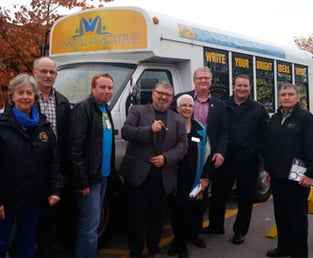 community for their recent Sunshine Initiative - a bus, transformed into a mobile canvas, driven around town with an invitation for residents to use the bus as their personal suggestion box for how they would like to see their community improved. This project is a wonderful example of deepening community and working towards a common goal. Paul left feeling inspired by Orillia residents, praising them for their citizen-led initative: "Collaboration isn't just about working together; it's about common energy. It's all of us working to implement a plan."
More and more, community leaders are recognizing the need for citizen leadership in sustaining the communities we are working to create. Projects like the Sunshine Initiative demonstrate how citizens nurture essential relationships between organizations, municipalities, and residents. They build a foundation of trust that resilient communities rely on. As we work together for a deeper and more resilient community, trusting in the power of citizen leadership has never been more important.
Learn more: