On December 2nd, Cormac Russell returned to Tamarack to lead an interactive online learning experience that explored how professionals and organizations can work in citizen space. A familiar voice around Tamarack, Cormac is Managing Director of Nurture Development, a faculty member of the Asset-Based Community Development (ABCD) Institute and an internationally-renowned thought leader, trainer and speaker. The Asset-Based Community Development Virtual Workshop led participants through a journey to reflect upon and discover ways we can shift to citizen-centred community development approaches from top-down institution-centered ones.
Cormac believes that organizations and professionals are not the solution to community problems, but it is citizens who must be at the center of any authentic and powerful democratic response to challenges. With this in mind, he points out that we cannot do community-building work without addressing power dynamics and relocating authority to the community. We can start to shift authority through the intentional use of questions. Questions act as invitations; they animate individuals and engage groups. And if we are deliberate about the questions we ask, we can bring about better outcomes.
Instead of asking about a group's needs or expectations for how we can help them, we can invite their ideas for how they could contribute to the community. Ask questions and then hold back the impulse to be helpful and just listen with curiosity. While the desire to help is natural and typically understood to be a good thing, it is important to consider the four quadrants or domains of the 'Helpers Crossroads' that Cormac outlined: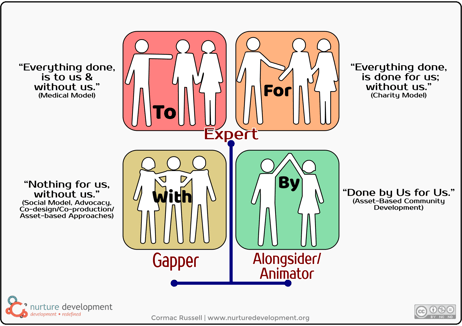 Image source:
https://www.nurturedevelopment.org/blog/abcd-approach/off-the-roundabout/
Doing to community, which is commonly taken as an infringement or aggression.

Doing for community, a

charity model where we try to rescue those with misfortunes.

Doing with community, or the collaborative co-production that is familiar to many working in this space.

Doing by community, or efforts that are truly community-led – for the people, by the people.
It is in this fourth domain where ABCD lives. In following the key principles of ABCD, we start with finding out what is it that communities can do best, and then move to learning what do communities require help with or need outside agencies to do for them.
Start with what's strong, not with what's wrong.
The word cloud below depicts some of "hidden treasures" (assets) that workshop participants identified in their communities during one of the many breakout discussions.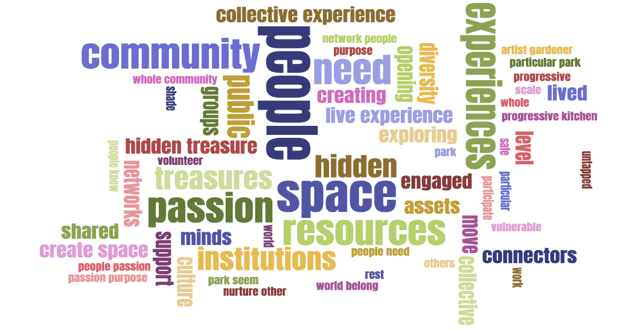 During the group discussion, it was noted that it takes time to build relationships and trust when working with community. This necessity is often in opposition to the 'bureaucratic imperatives' of working within our institutional systems and according to deliverables and accountabilities to funders, leadership, etc. Cormac pointed out however, that for community development to be authentic, we need to work at the speed of trust, not according to funding or election cycles.
During the afternoon portion of the event, Cormac went on to cover tools for precipitating citizen-led action and the eight touchstones and pathfinder framework for place-based community building. In addition, Cormac facilitated a second workshop specifically for organizations working with youth, A Professional's Guide to Working with Young People in Citizen Space.
Go Deeper: