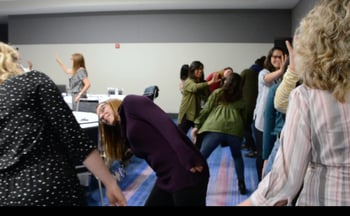 We know that when tackling complex community issues, bringing a diversity of voices to the table is a key ingredient to finding the best path forward. We don't however, always do a great job of intentionally creating an environment where people – with varying backgrounds and perspectives – can thrive and feel comfortable contributing. This is where leveraging tools and techniques from our friends in the theatre community can come in handy.
This new tool – A Challenge in Hypnosis: The Power of the Give and Take – offers a simple and fun exercise that can help break down barriers between group members and provide a space and context to play, reflect and share with one another before diving into the task of working collaboratively. It can be used as a standalone 'ice breaker' at the beginning of a community gathering, or in conjunction with other exercises and built upon over time with groups whose work is long-term and ongoing. No matter how you choose to use it, it is a great way to encourage individuals to get out of their shell, move around the space, and share with one another.
Don't fear – you do not have to be a theatre practitioner or expert to use this tool, or others like it; they are designed to be used by actors and non-actors alike. So consider shaking things up at your next gathering and get people out of their chairs and into their bodies.
Download the Tool: A Challenge in Hypnoses: The Power of the Give and Take
Learn More:
For other theatre-based exercises like this one, pick up a copy of Augusto Boal's Games For Actors and Non-Actors. This tool has been adapted from an exercise pulled from this book called Colombian Hypnosis.