This blog post shares Insights from Zita Cobb's keynote address at the 2021 RECONNECT! Making Community Essential Conference. Direct quotes are taken from Zita's presentation on October 7, 2021.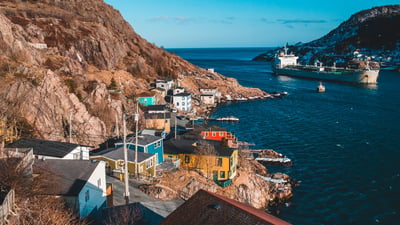 Social entrepreneur Zita Cobb learned the value of community at a young age. A native of Fogo Island, NL, Zita witnessed the power of cooperation at the age of 10 as the Fogo Island Cooperative Society formed, saving the island from resettlement.
Zita left the island to attend school and pursue a career in fiber optics, but 15 years ago, she returned to her community in northern Newfoundland with a big goal in mind: to create "cultural and economic resilience for Fogo Island."
To fulfill this objective, Zita and two of her six brothers established Shorefast, a charity whose mission is "to build cultural, ecological and economic resilience on Fogo Island and to serve other communities by sharing place-based models of economic development."

Technology and assets of place
In her keynote address during Tamarack's RECONNECT! Making Community Essential Conference in October 2021, Zita highlighted a critical point: that business and technology can be great tools for communities when considered in relationship with other assets of place, such as nature and culture.
To illustrate this concept, Zita offered a simple solution – ask and answer questions, just like she did as a 10-year-old child on Fogo Island. Questions that get to the heart of community assets and values not only shed light on what people in the community care about, but they also provide insight into the mindsets and structures that cause economic decline and hinder resilience.
With increased awareness, community members, businesses, organizations and government agencies can work collectively to chart a new course. Together, they can determine how to make communities better.
Economic nutrition labeling
Zita knew that the "economic wiring" needed to change on Fogo Island. To facilitate this, "economic nutrition" labeling was implemented for Shorefast initiatives to provide transparency and awareness in the moment of purchase about where money was going.
As Zita explained, it is important for community members to develop awareness of the "iron grip" of consumerism. Learning to appreciate the things you purchase and to say no to things you do not love is key.
This concept is not about stripping away the progress that has been made; instead, it is about embracing modernity without losing sight of important aspects of community. As Zita shared, we must "hold on and reach out." Ultimately, we must think beyond the short term.
Community leadership
Business decisions and consumer purchasing choices focused on short-term gains over long-term sustainability have caused communities to suffer. This nearsighted mindset washes away the potential for communities to thrive in the long term. Pushing solutions off to future generations compounds the problem. Thankfully, as Zita illustrated, solutions are possible.
In the leadership paradigm, there are leaders, followers and situations. Zita Cobb's leadership and vision helped establish economic underpinnings for the community of Fogo Island.
But to build from this foundation, community members also needed to understand that they were economic actors in their own futures. Improving local prospects by establishing an economic foundation that values natural and cultural aspects would not be possible without the cooperation of local businesses and government agencies.
As Zita notes, we must "cooperate internally" to work with the forces creating these situations.
Promising long-term outlooks
Cooperation saved Fogo Island and it can save other communities, too. But we can't "dabble," Zita cautioned. We must commit and navigate forward with long-term sustainability in mind. "This is not going to happen all by itself," Zita stressed. "There is a systemic tilt that has to happen, and we have to be a part of making it happen."
Despite initially being considered "not normal, practical, reasonable or rational" by potential partners, the success of Shorefast's endeavors proves that through asking and answering questions, honoring shared values and coming together with an open mind, communities can reconnect and develop promising long-term outlooks.
'It matters who owns what'
In closing, Zita posed a question, asking what we would put on a t-shirt that everyone in the world would receive. Her answer? "It matters who owns what."
I encourage you to follow Zita's lead and seek out who owns what in your community. Ask questions and answer questions about what is being done, why it is being done, who is doing it and what the effects are on your community. Collaborate with others and approach challenges with unified purpose.
With Zita's insights guiding you, you, too, can lead the way to create sustainable, connected communities.
Further Your Learning: