When a major 3-day conference on Asset-Based Community Development (ABCD), the foundation of Abundant Community Edmonton (ACE), came to Edmonton in the last week of May, I thought, "Just do it" and jumped at the chance to get involved. Some of the original "thought leaders" who have developed ABCD over the last 30 years, such as John McKnight (himself!), Cormac Russell (from Ireland) and Jim Diers (Seattle) were presenters. Other outstanding presenters included Vickie Cammack, who spoke on Natural Caring, Paul Born from the Tamarack Institute, and Al Etmanski…the list goes on. And people came from all over— Canada, Florida to California, and even Australia. It was fabulous! Tours showcased some of the ACE neighbourhoods. We heard amazing stories! It deepened my understanding of ABCD and further fuelled my commitment to build more connection in my own community.
My own foray into ABCD and ACE began just over two years ago when I heard it mentioned in the media. I looked it up and knew that I wanted to know more and that I wanted to live in "that kind" of community. I wanted to know my neighbours better. I wanted to know of the resources and richness of skills, experiences, passions and talents of people living in my neighbourhood. I wanted the richness of all ages–children, teens, families, seniors. Each has gifts to offer. I wanted a community that is connected, vibrant and alive.
When I was invited to my first monthly ACE meetings I thought, "Just do it!" These meetings were convened to support Neighbourhood Connectors, and welcome anyone interested in or involved with the Abundant Community initiative. These gatherings are a "community of practice," sharing stories and successes in community-building. Howard Lawrence, who pioneered Abundant Community in his Highlands community in Edmonton, based on the book The Abundant Community by John McKnight and Peter Block, shared what worked over the last six years and encouraged us with his stories.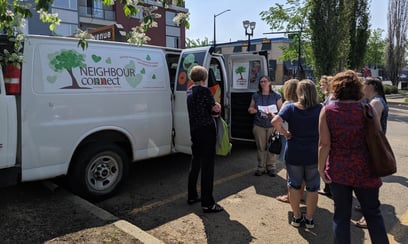 At the ACE monthly meetings, we learned about being Neighbourhood Connectors. How do we find Block Connectors? What do we say when we knock on a neighbours door to make an invitation to a block social?
My own journey included humming and hawing. When should my block social be held? Where could we hold it—I don't think I can organize blocking off the street and everything for our first one. What if nobody comes? Here's the clincher. It is fantastic to have some guidance to get started AND nothing substitutes for just doing it! Just start somewhere. Just have a beginning conversation. Just knock on a door and say hello to a neighbour.
My own Saturday afternoon pop-up block social on my lawn had a few attendees. A couple weeks later I noticed a Nanking Cherry tree got swapped between a couple attendees. And now, a couple of neighbour children now call across the street to say hello when they see me outside. It warms my heart.
My advice to you? Just do it! Tell stories; and just do it some more!
Read Other Reflections on the ABCD Conference in Edmonton: