This morning I felt the power of magic. A long time ago, two young pre-teen girls, twin sisters asked me to sew each of them a gown. It had to be Harry Potter gowns, from the books they had just read. The movie had not been made, so I had to be creative in the design following my imagination from how I saw the Harry Potter gowns; because I too had read the first book.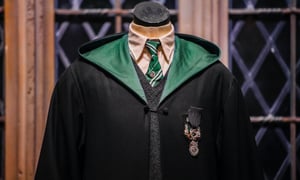 I remember shopping for the material. It had to be just right. Black and flowing, and yet comfortable to cast spells and durable for quiddich matches.
The gowns were made and worn, and then put away in garment bags in the basement. Time passed and we all saw the movies and laughed and cried with the Harry Potter stories; watching our favourite characters grew up and matured, just like the girls.
The twins went into two different fields, and one left to study abroad in Ireland.
Fast forward to this morning. I am sitting enjoying a leisurely breakfast on my day off. My good friend, the mother of the twins gives me a FaceTime call. Our FaceTime calls during the pandemic have been treasured moments. Reaching across a huge distance as my new home is far far away.
The news today was that the twin who had recently returned to Canada after finishing school in Ireland was to graduate, virtually. Guess what she will wear? The Harry Potter gown. It was discovered in the basement, along with a Star Trek costume I had also made for her a long time ago. It was pulled out, and lovingly ironed by her father. Her hair curled by her fiancé and her mother bursting with pride shared the moment with me.
The magic of that old gown. So cherished and loved. Sewn for a teenager, worn to parties, quiddich matches and now to be worn as she graduates from the University of Ireland with a degree in Medicine.
My heart swells with pride and honour to have had a part in her special day. Magic is real, powerful, and a force one can explain. Who knows what future spells this gown will cast, all I know is it is a special gown for a special young woman.