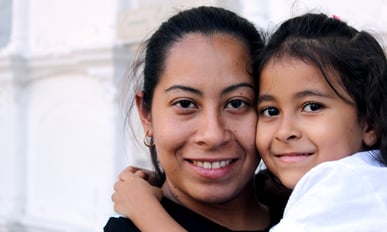 How can people experiencing homelessness be supported to get back on their feet? One example from a Cities Reducing Poverty member, in the county of Massachusetts, USA, demonstrates the value of believing in and investing in people. Many of the core members of OpT (Opportunity Tri-Communities) have shifted their efforts in the pandemic, while continuing to work on building resilience in the community. One husband and wife team, who took on an old Victorian building (initially to use the main floor for his medical practice) with rooms have shown a shelter is not merely bricks and mortar or a place to sleep. A shelter can be a safe space, enable healing and a champion for human potential.
St. Luke's Guesthouse is modeled after best-practices learned through operating a shelter informally, and through this learning, has evolved to a more formalized, self-sufficiency model. As the only homeless shelter for men, women and children in southern Worcester County, its vision is that 'all people who are homeless in the area will have a place to experience hospitality and receive tools for self-sufficiency.'
Supporting people who are homeless requires a range of measures due to intersecting social, mental and physical burdens. With this is mind, the guesthouse has been transformed, through the help of a small staff including a guest advocate and case manager. This means meeting people where they are at and providing wraparound supports for families.
In 2019, the shelter hosted 89 guests – all of these guests were able to find employment and save close to 75% of their income, allowing them to afford first/last deposit to transition out of the shelter back into an apartment in the community.
In 2020, the shelter was able to navigate the pandemic and at its height create an emergency tent shelter, and though having to limit capacity and adapt to a more rigorous protocol, were able to continue to support and respond to the needs in the community – providing 423 nights of emergency shelter and over 1,200 meals - while having no cases of COVID-19. Some guests were found permanent housing in this time and many just needed a safe place to stay with immediate needs taken care of.
Though the pandemic challenges of 2021 persist, there continues to be support for guests struggling with mental health and addiction, and families who have become estranged. There are stories of family counselling helping these families reunite, the guesthouse providing a haven to reconnect at their own pace. Guests have been able to achieve their GED and found subsequent employment and affordable housing while working on maintaining their sobriety. St Luke's Guesthouse is a place of trust and hope.
This work happens not in isolation, and alongside other efforts including a new program called Finding Hope/Preventing Eviction. Recognizing the effects of the pandemic for the most vulnerable, the program includes advocacy and serves those at risk of eviction, and of becoming homeless. Participants receive case management help, training in budgeting and housing law, and can earn up to $1000 in direct payments to their landlords to get caught up on their rent.
As this year still requires adapting to our new normal, we are reminded of the heightened challenges and barriers faced by the most vulnerable of society. While February 20th is the official day, the month of February has been declared the Coldest Night of Year so that individuals and families can organize safely and find ways to raise local awareness and contribute to communities.
*Self-sufficiency is a term more commonly used in the United States as a measure of the real cost of living and an alternative to the Official Poverty Measure. Determining an individual or family as self-sufficient is a more accurate reflection of real-world costs and helps to understand income adequacy. The Self-Sufficiency Standard determines the amount of income required for working families to meet basic needs at a minimally adequate level, taking into account family composition, ages of children, and geographic differences in costs. Calculated at state level (and filtered down to county and family-type), the standard determines income requirements for families without needing to draw upon public or private assistance. First calculated in Iowa in 1996, as of 2020, the standard has been calculated for 41 states, and can be found in 39 states.
Take Your Learning Further: