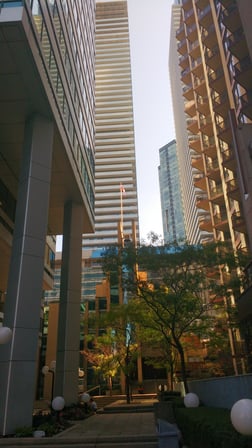 "Decide what the box is in your church community and begin try to think outside of it. We need to understand our context much better before we can understand how the church needs to be different."
This is how a member of a church congregation reflected on a day-long trip to various churches in and around Toronto this winter. Together with more than 40 other members from two congregations in Kitchener, the group learned how others have either repurposed their building or even redeveloped their entire property in order to make a difference in their communities.
Since their conception, churches have been active, contributing members of the communities in which they are located. In the past, many new churches were built when congregational participation was strong across Canada. Today, many such churches face a rapid decline in attendance, and their contribution to the wider society is diminishing due to an aging membership who have less energy and resources to give. Others are actively seeking new ways to continue their legacy of service to the community. For example, Trinity United Church in Kitchener recently sold their building. They are now exploring how they can turn this asset into community-focused service, or (in church terms), mission. The same is true of St. Matthew's Lutheran Church in Kitchener, who are considering a redevelopment of their property with or without a church-oriented focus.
Common to both congregations is the wish to do something meaningful that has a sustainable positive impact on the wider community. To facilitate their exploration, the church support organisation Toronto United Church Council (TUCC) organised the trip for the congregations to observe how others have responded to similar challenges. The tour took them to the ecumenical Stonegate Ministry project. Founded in 1991 by four local churches, with contributions from local businesses as well as strong ties with the local health care and food programs, Stonegate provides practical, social, and spiritual supports out of a storefront in a high-need neighbourhood. The church's shared vision: to play an active and relevant role in reaching out to their community. The store contains space to sell used household items and clothing, with programming such as English language groups for female refugees.
What to do with a large piece of property in a very sought-after part of Toronto? How can what a congregation believes to be the gift of valuable land be repurposed for the benefit of the community? These were the questions the congregation of St. Andrew's United Church on Bloor Street responded to when they redeveloped their site. They now generate a substantial annual income from a mixed-use multi-story office tower. With this income they finance their congregation's substantial programming for people in need in the community.
A brand-new app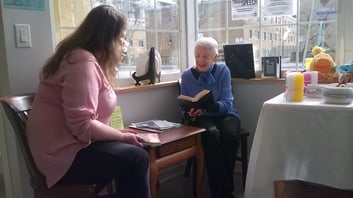 roach to church is emerging in the new residential developments in East Gwillimbury. Together with the influx of people moving into the area on a weekly basis, a United Church pastor and her family took residence in a home provided by the church. Without a church building or a Sunday morning service, the pastor is building relationships to catalyse community and personal support. She actively advocates for the needs of her neighbours with the local school and the town council where she's earning a reputation as the new community's chaplain. Congregational life is developed through podcasts for community members to listen to on their commute to work, and by hosting community potlucks, youth programs, and alternative worship services in the basement of the purpose build home. And lots of pastoral support is shared when meeting people while walking on local streets or in the neighbourhood grocery store.
For the older and more traditional members of the congregations on the TUCC trip, most of these new forms of church were quite novel. The group realised that engaging with the community requires careful listening and a willingness to be challenged in one's perception. Finding out what fits both the local community, with its special needs, and what the congregation feels comfortable doing, is a difficult but very worthwhile puzzle to figure out. This tour was merely the start of an exploration of what is possible. Often, the group heard how difficult it was to actually find suitable collaboration partners, and to develop a plan that could be accomplished with the limited resources available. Yet, the despite these challenges, the participants were also inspired by the creative 'out-of-the-box' ministries they witnessed during their trip.
Take Your Learning Further