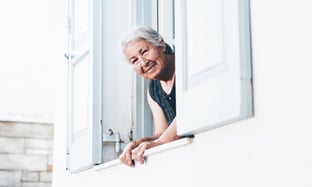 The Dufferin County Equity Collaborative and its partners are better aligning the local health system. During COVID-19, TeleCheck, a unique volunteer-based community service offering regular check-in calls to support seniors (55+ years), was recognized as an essential community health service and has officially been integrated into the Headwaters Health Care Centre operations.
Daily check-in calls provide safety to seniors living independently. They take place between 8:30 am – 12:00 pm and 3:30 pm – 7:00 pm. Benefits include:
Ensuing the safety, health, and well-being of registrants
Providing healthy routine reminders (e.g. medication, meals, exercise, appointments)
Increasing social connections
Acting as a quick link to emergency response when required, and community resources
Offering support to caregivers and those living with dementia
There are no referrals or assessments required and there is no fee for seniors to receive the check-in phone calls.
TeleCheck has saved the lives of at least two people this year.
During a routine check-in call, the participant didn't answer. As per protocol, with no one answering the phone, TeleCheck called 9-1-1. It turned out the participant was having a stroke and was saved in-time by emergency responders.
A TeleCheck participant took a bad fall and couldn't move, but felt confident that when they didn't answer their scheduled TeleCheck call, help would arrive shortly after. When this participant didn't answer the phone, the paramedics were sent and saved the individual who otherwise may have remained incapacitated and alone for several days.
By integrating TeleCheck services with the local hospital, health care providers have introduced a major referral point to get seniors connected with existing community supports that can help them live safely and with dignity as they age in-place; and is creating a more networked, resilient community with which to face future crises, such as COVID-19.
Learn More