COVID-19 has brought on some positive changes like the gift of time, slowing life down, more time with family but it has also caused lots of sadness and disappointment due to cancelled group celebrations and fun. The weather is starting to warm up, the sun is out, and the flowers are blooming. This is the time of the year that cities are planning their Neighbours Day celebrations.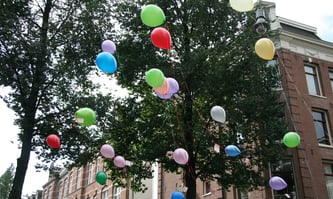 Neighbours Day are planned events that celebrate neighbours, community and encourage people to meet and get to know each other. There is a world neighbours day, national days and smaller municipally planned celebrations. Australia has been celebrating neighbours day since 2003. It was founded because an elderly woman died in her home and nobody knew - she was forgotten by her neighbours, friends and family. Neighbour Day in Australia is celebrated on the last Sunday in March every year with the aim of fostering strong personal connections that last year-round. Each year there is a theme and 2020 is supposed to be Social Connection. There are many municipalities in Canada that celebrate neighbours day:
City of Kitchener

- On the second Saturday in June, Kitchener neighbours come together to celebrate their vibrant and diverse community.
City of Kelowna - The city plans their event on the first weekend in May. The goal of Kelowna's Neighbour Day is to help build relationships between neighbours because knowing your neighbours can help transform neighbourhoods into welcoming, safe and inclusive places to live.
City of Calgary - Hold their event on the third Saturday of June to provide opportunity for residents to get together with neighbours and celebrate Calgary's strong community spirit.
These cities and many others are now having to decide whether to continue with the traditional neighbours day celebration or cancel the event. Jonathan Massimi from the City of Kitchener is taking the opportunity to take what has always been done and transforming it to meet today's reality. In a recent discussion with Jonathan he talked about the spheres of belonging, Public space (large groups), Social space (small groups) and personal space. It is the Social space that Kitchener is going to focus on for their 2020 neighbours day celebrations. Jonathan believes that constraints lead to creativity and innovation and that is just what the City of Kitchener is going to do with their neighbours day.
A group of 15 individuals came together for one of Cities Deepening Community's weekly brunch chats to talk about neighbours day and how can we celebrate neighbours during COVID-19. There were so many great ideas and discussions that inspired those on the call to not cancel neighbours day and others to host their very first neighbours celebration. We need to embrace constraints and be innovative. Here are some great ideas generated during the Brunch Chat to get you thinking:
Car Rally

- A road rally is nothing more than an adult scavenger hunt using cars. The clues given should lead the participants along a journey ending at a preset location or a location determined by the clues.

Community Bingo - Community bingo is an easy activity you can do. Not only is it fun but also has so many benefits such helping neighbours get to know each other to identifying community skills and assets. Great game to play as a family on walks and ask people that you meet while keeping your distance.
Virtual Treasure Hunts -

A virtual scavenger hunt or family outdoor hunt is a super fun way to connect with your friends and family. You can create a list and have neighbours spend the day taking photo of the objects they find and then come together on line to show what they find.




Teddy bear walk or neighbourhood scavenger hunt -

that people put something out that explains who they are or come out on the porch and answer questions




Block party/driveway -

eat together at the same time. Plan levels of engagement for the time that it happens




Victory Day -

In the UK Victory Day celebrations were adapted from the typical mass events to promoting people at home having street parties. People were encouraged to make bunting, put your chair out in the front garden. At 3pm toast, at 9 pm singalong




Create a passport, find someone from ____ neighbourhood

Virtual speed dating

…pair up one on one on the phone and meet someone new on your street



Example of Neighbours Day COVID-19 Style
Kelowna's fifth annual Neighbour Day was Sunday, May 3, 2020. Traditionally, residents are encouraged to celebrate the day by meeting new neighbours, performing a random act of neighbourliness or by holding a neighbourhood get-together. However, this year's Neighbour Day was a little different. The City encouraged everyone to find creative ways to connect with neighbours, in whatever form resonated, while maintaining physical distance. We asked residents to share their stories of neighbourliness with us. How has their neighbourhood come together during this challenging time?
The response was very positive and inspiring. Kelowna heard stories of driveway block parties, car parades for birthday celebrations, neighbours organizing food drives, virtual happy hours, and many stories of neighbours supporting neighbours. This goes to show that in times of uncertainty and isolation, neighbours will find creative ways to care for one another and maintain social connections. Visit getinvolved.kelowna.ca/strong-neighbourhoods to see the wonderful Neighbour Day stories they received.
As we think about how we can continue with what used to be amazing programs prior to COVID-19, don't try to completely replicate what was and move it to online, elements will be lost. Think about the constraints as assets and what can we do with them.
Let's Celebrate Neighbours day in a new kind of way!