The City of New Westminster's Poverty Mythbusters report dispels stereotypes around the demographics of people living in poverty, pathways into poverty, working poverty, and child poverty. It was created by the New Westminster Community Poverty Reduction Initiative, a diverse group of non-profit organizations and government agencies involved in fighting poverty in New Westminster.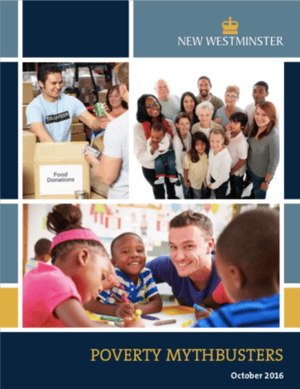 In 2015, a survey and focus group with people living in poverty identified stigma and a lack of community understanding of what it's like to live in poverty as a major issue. Poverty Mythbusters was therefore designed to kickstart the conversation, raise awareness and understanding of the circumstances of people living in poverty, and build empathy. Short and punchy, the report grabs a reader's attention and tackles stereotypes by calling out and countering a number of common poverty myths using facts and stats. It also recommends a list of ways that community members can get involved in fighting poverty, including by volunteering, donating, and by becoming a Living Wage employer.
Myths were identified by a review of:
Focus groups and surveys with twenty-four individuals living in poverty
Reports and other Mythbuster documents from within and outside of Canada
Consultations with New Westminster's Community and Social Issues Committee
Media (e.g. newspaper articles) and social media (e.g. Facebook comment threads)
Music (e.g. rap and hip-hop songs that articulate experiences and views of people who have been discriminated against)
Videos (e.g. created by people with lived experience who speak to poverty in their own words)
Poverty Mythbusters was disseminated through City of New Westminster Citypage ads – a weekly slot in the local newspaper, the New Westminster Record. One myth was featured per week over eight weeks, both online and in print. The report was also posted to the City's website, included in their online newsletter, and shared via social media. Its release was aligned with First Call's Child Poverty Report Card, the Initiative's presentation of their Community Poverty Reduction Strategy to Council, and the pre-Christmas charity season.
The City of New Westminster is following up on Poverty Mythbusters with a Public Awareness and Education Working Group which will craft presentations, exhibits and other public awareness efforts to continue to build understanding and empathy toward people living in poverty.
Take Your Learning Further: