Since attending the recent asset-based community development (ABCD) event in Kitchener, I have begun to think that I may have gotten something about community development fundamentally wrong by thinking of the term 'community' almost exclusively as a noun.
Embedded in the very definition, community refers to a group of people in relation to shared places or characteristics. These are mostly tangible things we can touch or feel – people, spaces and the relationships between them. Although 'community' as a verb doesn't conjugate well, humour me for a moment and consider how things might change if we thought of community not as something we are or something we have, but rather as something we do. I've come to these musings after reflecting on the stories that Donna Thomson and Al Etmanski shared. Let me explain.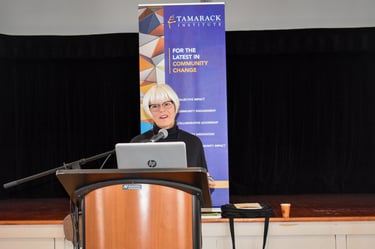 Although I had not heard of Donna Thomson when I arrived at this event, as she filled the Victoria Park Pavilion with her story there were times I knew exactly what she was going to say next because I have lived through similar experiences myself. Her words took me back to a time when childhood disability unexpectedly and unceremoniously rocked my own family. We realized quickly how inhospitable the medical community was despite being described as the sum of many 'caring' professions, and believe me, we struggled. We lived for years in survival mode trying to work out how to behave as dual citizens - bilingual, bicultural, bimodal – in both the community we came from by birth and the community of people and places we now inhabited by chance. On one level, I relate to her story of the trials of people in difficult health situations. More deeply, however, her stories have called on me to think differently about the tangible and intangible assets in my own communities. Not only can we choose to build communities that dignify each individual in body and spirit – in all phases of ability simultaneously – and liberate each other to live our best lives, we have an obligation to each other to do so. In practicing an ethos of caring, grounded in dignity and respect for others, there came a point when I realized Donna wasn't talking about community things. She was actually doing community.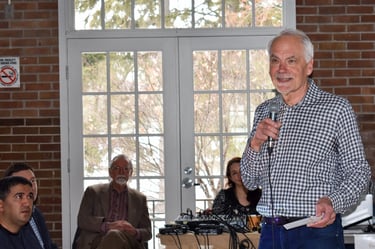 Being knocked about by systems that didn't account for our needs left my family bruised and battered at times, which is why I think Al Etmanski's words, "enough already" gave me pause to linger as well. We experienced many stressful situations over the years that normalized and internalized feelings of inadequacy that never seemed to end. So when I hear someone say "enough already", I interpret that as someone crying "Stop" – as in "Enough already. I can't do this. Stop." But as Al continued, I realized these words have a double meaning. They can also be an anxiety-quelling-confidence-building mantra whispered to the self. Hearing "You are enough already. You're strong. You can do this. You already know how" had a way of satiating the negative self-talk, and spurring me into positive motion from a position of strength I hadn't felt in a while. In building up the individual and teaching us to care for the self, it occurred to me that Al was not only doing community, he was doing it directly with me though we'd never met.
Buildings and natural features are beautiful and important, and without a doubt the relationships with people we care about make life worth living. These are all part of what community building is. But what remains when all these tangible manifestations of community disappear or change in time? Can we still have community if we find ourselves alone in a crowd, or maybe even just alone? Perhaps if we begin to imagine community as something we do rather than as something we are or have, we open ourselves to greater personal responsibility in community development. Not everyone can have physical spaces and places. There are those for whom relationships may even be out of reach. But we can all learn to do community in some fashion, even if just by our self for our self, through teaching and learning, observing, reflecting and sharing. This is the work of doing community. Forgive me for thinking so, but I wonder if that type of community has the potential to last in perpetuity as the skills filter from one generation to the next.
Which, perhaps, was the entire point of the ABCD seminar in the first place. I am imagining right now the many ways I can 'do' community going forward.
Learn more about ABCD theory and practice by visiting the ABCD Canada resource library: http://www.deepeningcommunity.org/abcd_resources