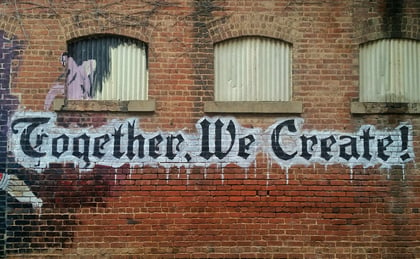 What comes to mind when you think of a transformational experience?
Here's what it likely does not look like: Filling out a survey; being handed an information card; or responding to a public notice.
Community engagement practices can often feel transactional: the community is a source of information and the goal is to retrieve that information to design the ideal solution. We say thank you and then move on.
In my paper The Context Experts, I shared stories and prompts for engaging people with lived experience, and one of those prompts is to strive to create transformational experiences. I urged practitioners to "understand that both the work you are doing and how you do it needs to benefit the context expert. Don't just see the context expert as a source of information, see them as a partner who has a stake in your work."
So, what is a transformational experience and how do you create one?
Transformational experiences are about being part of something bigger than yourself.
Tufts University defines them as "experiences that fundamentally challenge a person's assumptions and preconceptions, as well as their beliefs and values, affecting how they understand themselves, others, and the world. These experiences are likely to occur when people venture beyond their comfort zones—physically, intellectually, socially, culturally, geographically, or otherwise. The novel thinking that often accompanies unfamiliarity can lead individuals to appreciate unexamined parts of their environments, discover new parts of themselves or others, and achieve in ways previously thought impossible." (Tufts University, Enabling & Integrating Transformational Experiences)
Transformational experiences should be something we strive for when engaging the community. The community is not a means to an end; it is the end. At Tamarack we have worked alongside countless communities who are faced with these options—transactional vs. transformational—and each time they choose transformational, the outcomes are also transformational.
Consider an example of creating a Youth Engagement Strategy. You could consult with youth to gain an understanding of their challenges and aspirations, then talk to organizations who work with youth to find where there is alignment on opportunities, and write up a comprehensive strategy that would likely receive buy-in and traction with all involved.
But what if you instead you invited the youth to create the Youth Engagement Strategy themselves? You could start by convening a group of youth to create a plan to reach out and talk to other youth of diverse backgrounds about their experiences. You could work alongside them as they synthesize their findings and write up their recommendations. They can take over the microphone and present their recommendations to the leads of organizations. They could work shoulder-to-shoulder with the CEOs and the program directors to brainstorm solutions. And they could take these collective ideas and write the strategy.
Just think for a moment about the skills, experiences and exposure that would be gained in this version of the scenario. Creating transformational experiences is a way of investing in the community as the solution.
I've created the following chart to provide inspiration for how you might shift some common transactional experiences into transformational ones.

From Transactional

To Transformation

PLANNING:

Create an engagement plan

Engage the community to design the process

PROCESS:

Engage the community on an ongoing, iterative basis. For example;

Seek to understand the problem through stakeholder interviews
Develop potential solutions
Share potential solutions with the community and get input and additional ideas
Host an open house where the community prioritizes and votes on a preferred solution

Work together to co-design solutions through participatory processes like design charetters, and hackathons

ENGAGEMENT METHODS:

Conduct a survey, poll or vote

Host a session in a community centre

Share the results in a summary report

Move to engagement methods that allow people to interact with each other, share stories, discuss ideas.

Host the session in an unexpected location. Create an experience through your venue choice.

Share the results in a video that features only the voices of the community.

SHARING DATA:


Share research and recent statistics about vulnerable populations before jumping into brainstorming and ideation

Invite people with lived experience to animate the data through a data walk, or share their experience and community intimately through walking interviews.

REPRESENTATION:

Establish a lived experience advisory council who oversee the work and are consulted frequently throughout the process.

Make sure that people with lived experience get a chance to provide input.

Ensure that there is significant lived experience representation at every table (board, leadership, working group)

Address power differentials by having a member representing an equity-seeking population to chair the group and facilitate the conversations.
As a starting point for creating transformational experiences, look at your upcoming opportunities for engagement and ask yourself the following questions:
What are the direct benefits for community members in this process?

How can community members be exposed to new ideas, situations and people?

How can we develop and deepen relationships between diverse people?

How can we create a shared experience?

How can we empower people with opportunities to share their stories, and

for

others to listen deeply?

How can we provide the opportunity for community members to build their skills and capacity?
Take time to review your current processes and challenge yourselves – how can I make this transformational?
Take Your Learning Further: