There is a growing understanding about the richness of life that has been lost with our fragmented and isolated lives, and attention is now being given to restore the historic nature of neighbourhoods. The close proximity and frequency to run into neighbours is what builds social capital - that relational fabric in a community. Sociologists have been sounding the alarm regarding our plummeting social capital; the absence of it is impoverishing our lives and communities. It is what builds civil society. This social connectedness is a primary contributor to a person's sense of wellness and it is shaped by our local, daily life.
How do we combat the trends of 'living above place' versus being rooted, the trend of valuing the private over the common, and of the increasing isolation, fragmentation and speed of life? How do we live out our values – not as professionals – but as neighbours? I have become convinced that it is the local neighbourhood that is the best context for people to thrive.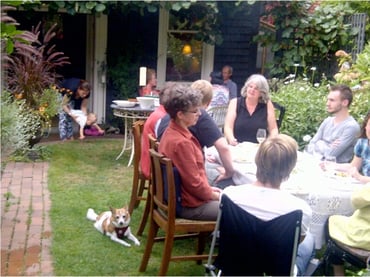 Several years ago, I began a process of reorienting my entire way of life within the proximity of the neighbourhood, out of a longing for a more integrated way of living and a deeper experience of community. I began deceptively simple practices (that I now think have the potential to be staggering in its scope in helping us and others live well). My imagination was sparked for another way of living and being.
I moved into a 100-year-old house with six bedrooms and began offering a few rooms to rent. In the process, I discovered a need to hold space for people in transition, what some call the post-modern homeless. I eventually opened all the rooms for whosoever and invited them to stay as long as they wanted. There has now been over 200 that have lived in my house. It is a miracle of grace that I love this! I have moved away from a privatized way of living where your home is seen as a sanctuary, to the place of making your personal possessions more public, as Augustine argued for.
I quickly learned you couldn't be present and be busy, so I spent the first year learning a radically foreign rhythm that had enough margin. I stopped using the word busy so as to not increase its value (my life is people, intense and full, but I no longer live on adrenaline and deadlines which I did most of my life). A culture built on speed tends to neglect relationships - especially those deemed optional - and the simple, ordinary practices that enable a community to flourish tend to diminish in value when we don't depend on each other practically, and productivity and dehumanizing efficiency dominate our lives. It takes time to get to the place where you know your neighbours and can experience connection as a neighbourhood.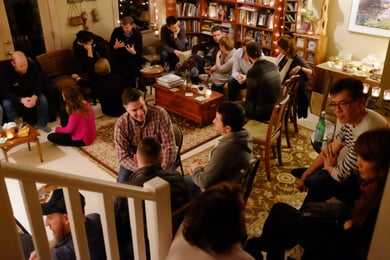 Alan Hirsch reminds us that to connect in our neighbourhood we need proximity, frequency, and spontaneity. For most of my life, I embraced the value of self-sufficiency and independence (what a delusion they are). Now, most of my life is shared - not with family, but with strangers; my home, car, food, resources, possessions, and time. It is wonderful, hard and beautiful, and I would never go back.
I've also discovered how food builds relationship! Simple hospitality, around good food – and hosted regularly in homes - provides the best foundation for developing a social fabric in a neighbourhood. I moved from a compartmentalized practice of entertaining just friends and family – to a lifestyle of radical hospitality - to strangers and neighbours.
Eight years ago, I started hosting regular Sunday Soup Nights for the neighbours. In wanting to make it easy for people to come, I kept the barriers low; they didn't need to RSVP, they could come late and leave early and didn't need to bring anything (except their own drinks). I made a pot of homemade soup and some bread. We now average 45-55 neighbours coming, made up of every decade, from 20-70 years old and their children. Most people tend to only gather with their tribes, so people have loved it! Where else like the neighbourhood can diversity gather? Neighbours who have lived next door to each other for 15+ years and had never met till they came to our house, have now exchanged emails and even house keys. I think this is a taste of living well! We now have over 100 people on our neighbourhood email list.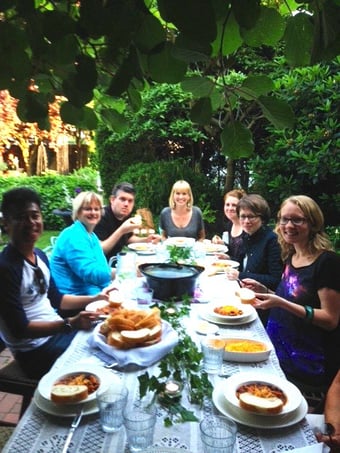 Several women have shown up at the door on Soup Nights saying they wanted to meet the woman who invites strangers into her home. Even though many people are entrenched in fear and isolation, I have found how hungry people are for another way of being human. These very simple, ordinary practices that we do – have profound impact. Neighbourliness seems to have become a lost art. The idea of neighbourhood helps me think about fostering a sense of village, where as Peter Blocks suggests: every gift can be given.
After a few years of building relational connection in the neighbourhood, we put our hand to work together toward sponsoring a family from Syria. Together we raised $40K and welcomed our family to live in a suite on our street. What a gift they have been to our neighbourhood. We are now working toward a second sponsorship. Working together really deepens connection!
I've sought to root deeply into my neighbourhood seeking to be a faithful presence. I am not advocating that everyone lives at this level of intensity. GK Chesterton once said that we are to exaggerate what the world has neglected. I am seeking to exaggerate what has been neglected in the area of generous hospitality to maybe spark a few others to imagine with me...
What if every neighbourhood had a catalyst for inclusive hospitality? A lifestyle that nurtured a web of care in their place. What would it look like for your neighbourhood to thrive?




One neighbour asked me to be her executor. It prompted me to dream about my neighbourhood functioning like extended family.

What would it take to develop enough connection and shared life, that you cared about each other like a healthy extended family?

What if we didn't think as professionals providing services and didn't see our neighbours as projects or people to be served, but simply invited them into our life as friends?
What if we all lived well by loving our neighbours well?