In 2015, Vidyard, a video marketing and analytics company based in Kitchener, Ontario, launched an initiative called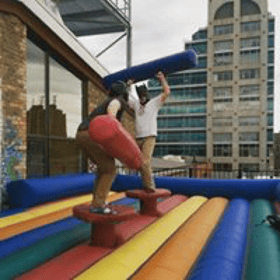 PlugIn aimed at helping to mitigate some of the negative effects of gentrification in downtown Kitchener by giving back to their community.
The influx of tech companies, such as Google, NetSuite and start-ups such as Thalmic Labs, moving into Kitchener has had both positive and negative effects. New businesses are opening and the downtown is seeing a revival, but there is also the potential for impacts such as unaffordable housing and resulting displacement of people who can no longer afford to live there. Michael Litt, Co-Founder and CEO of Vidyard watched this happen in San Francisco and is actively fighting against this becoming a reality in Kitchener.
Litt knows that a vibrant city is a diverse city, so when Vidyard's leadership team met to brainstorm ways of improving their company culture, they knew they had to help their 160 employees to understand what a vibrant city looks like, and the concept of PlugIn was born.
PlugIn is a win for the community, local business owners and Vidyard employees. On a monthly basis, Vidyard hosts fun and memorable events at a local business – such as a movie and games night or a party featuring micro brews and piano duels – to unite the area's professionals; increase exposure to new local businesses; and, provide proceeds from ticket sales to a local charity. Vidyard also offers in-kind services to create a video for the charity to help raise the profile of its work.
This model for giving back is unique so I was grateful to have the opportunity to sit down with Litt to learn more about his tech company's approach to community impact. What stood out to me was the creativity of the model, so I asked him to share some advice to other businesses who are looking to connect to a cause:
Consider the Community as a Stakeholder – Vidyard wants to define their stakeholder value chain as: 1) Customers, 2) Vidyardians, 3) Community, and 4) Investors. When you list the community as a stakeholder, and especially when you consider the community's needs to be more important than profit, you then have the opportunity to make decisions for the betterment of the community.
If You're Not in a Position to Commit Money to a Cause, Commit Resources Instead – Vidyard is a start-up and a venture-funded company where all expenditures are from capital, so they're not yet in a position where they can commit straight-up money to a cause. Litt shared that, "If I went to my board and asked for a $15,000 donation to charity they would say you should invest that money into growing your business, so what we do is to commit employee resources instead."
Make it a Whole Team Commitment – When the community is a stakeholder you then have a platform to communicate with your team that community is important. Litt said that "If leadership is behind it, it gives permission to the people in the company to get behind it as well." As a leader you can set the course, but it can be beneficial to share the responsibility and ownership of giving with your team. Consider connecting it with career progression by providing opportunities for employees to lead, to be entrepreneurial, to manage projects, to manage money, and get exposure.
Vidyard is also currently undertaking the 1:1:1 pledge as a model for corporate philanthropy that assigns one percent of employee time, one percentage of product and one percent of profit to non-profits in the community.
When Litt tells businesses that they need to get involved in the community and they respond saying they can't afford it, he challenges them to give resources and employee time instead, "Then it's not a question of money, it's a question of time."
LEARN MORE: