The WES Mariam Assefa Fund's new participatory grantmaking pilot project is shifting funding power to the community
This story is in partnership with the World Education Services (WES) Mariam Assefa Fund.

Back in 1970 when Najma Iqbal immigrated to Canada, challenges for newcomers were vastly different than they are today. She laughs recalling her experience during those days, when ESL programs weren't the norm and she was the only person of colour in her school.

At the same time, Iqbal notes that a number of settlement issues have stayed constant throughout the years. Finding a job, housing issues, and getting international credentials validated are just some of the things she says many newcomers still struggle with today.

Iqbal now lives in the Peel Region of Ontario, in Brampton, where she retired last year from working as a community labour market manager for the City of Toronto. As a recent retiree, with free time on her hands, Iqbal came across a new grantmaking project seeking immigrant and refugee community members from the Peel Region to voice needs and sit at the decision-making table.

Equipped with her lived experience and passion to strengthen the immigrant community, Iqbal applied to be part of the new grantmaking project.

"I'm a Muslim woman of colour and I've been here a long time, so I've seen the evolution of the immigrant community in the GTA. I've also seen the evolution of service access, and the lack of it and how still there's so many issues and needs that continue to be prevalent for the newcomer community today," says Iqbal.

It makes perfect sense to involve community members in a conversation about their own needs.

Yet, in many traditional grantmaking models, funding decisions are made by foundations based on internal research and consultations with their existing networks. The problem with this approach is that it leaves out the lived experience of people who know first hand about their problems.

The WES Mariam Assefa Fund is seeking to challenge this traditional practice with a trust-based model called participatory grantmaking, which centres on the voices directly impacted by a particular grant or program.

For their new participatory grantmaking pilot project, the WES Mariam Assefa Fund has partnered with the Tamarack Institute to support the economic mobility of the immigrant and refugee population in the Peel Region — where half the population is made of immigrants.
What exactly is Participatory Grantmaking?
Let's say a foundation has a new focus to help incarcerated people in Ontario. Traditionally, they would post an open call where organizations can submit their own proposals and projects.

If they used a participatory grantmaking model instead, the foundation would reach out to groups of people incarcerated in Ontario and let them make the decision on how this fund should be used as well as who should get the grants.

Simply put, participatory grantmaking means shifting the decision-making power from the foundation to the community itself which is impacted by these decisions.

"The traditional model is not necessarily built on trust," says Marina Nuri, associate director of programs and strategy at the WES Mariam Assefa Fund. "I think it has some kind of colonial perspective that actually funders know better than communities."

Participatory grantmaking, on the other hand, Nuri says, involves a spectrum of participation. In WES' pilot project, newcomers are involved in the problem definition phase (or strategy development phase) as well as the on-going and final-decision making process.
Bringing the Community to the Centre of funding Decisions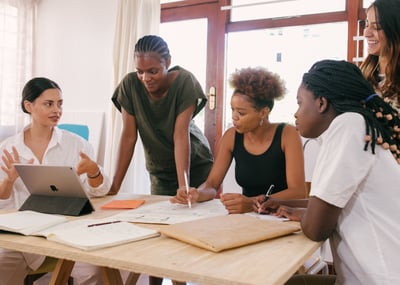 When WES initiated this pilot project, they first sought out an organization that could reach out to a community and facilitate discussions about their needs. While in some participatory grantmaking projects, the foundation staff would do this facilitation themselves, Nuri says they wanted to hire a third party for two reasons: this was a brand-new type of project and they didn't have experience in this kind of facilitation, and they also didn't want to "impose" on community members as the funder. Through this process, they identified the Tamarack Institute as a partner who could facilitate the project.

The only criteria WES, as a funder, determined in this project is the broad focus of immigrant and refugee communities (WES's overall focus) as well as the pre-approved amount in the fund. "The rest is in their hands," says Nuri, referring to the community members.

One of the primary priorities for Tamarack as they came on board was to select a community for this pilot project. They had an open call for community nomination and chose a community based on its population make-up, their current needs, and assessing if community members were willing to participate in the project.

Tamarack selected the Peel Region in Ontario through The Peel Newcomer Strategy Group's (PNSG) nomination of the community. Peel has a massive immigrant and refugee population which was estimated at 51.5 percent according to the 2016 census. The region also welcomed 26,000 immigrants in 2021.

"We applied to have Peel as the host community because we saw a lot of great opportunities for our population," says Jessica Kwik, director at PNSG, who mentioned how the region is the only immigrant majority community in the Greater Toronto Area. Kwik says her community needs help with refugee settlement, underemployment and unemployment of newcomers, especially through the COVID-19 pandemic. Anyone from the Peel community can apply to be part of the people's panel — which consists of 12 people. Tamarack is seeking a balance of six individuals and six representatives from newcomer-serving organizations.

"I think that by bringing a diversity of people from the community with different backgrounds, ages, gender, ethnicity and cultural background, work experiences, and most importantly lived experiences, we will get a much better sense of what should be done," says Myriam Bérubé, a consulting director at Tamarack. "These problems that we're trying to solve are very complex and lots of people are already working on them; if there was one clear solution or proven path, we would already be there."

Those selected will need to attend four virtual sessions (two hours each) in November and December where they will discuss which issues need to be addressed and plan out the application process. In spring 2022, they'll attend two grantmaking sessions to choose which organizations should get the grants. For their time, members in the people's panel will be paid above Peel's living wage ($19.80 per hour).

"I'm just really interested in seeing what's possible in terms of bringing that greater level of engagement with different levels of stakeholders that really make up the settlement process and think about how that connects some of the broader issues of employment or building economies that don't present as many barriers," says Kwik.


WHAT'S NEXT?
At the moment, the project is in the phase of building a committee made up of 12 community representatives (called the people's panel) who will work together to discuss the various issues in the Peel Region related to immigrants and refugees. Through Tamarack's facilitation, the people's panel will identify a focus area and will launch the application process next year.

As a learning centre, Tamarack will also be documenting this process as they go along and identify lessons learned. Nuri explains that this will help WES with streamlining the participatory grantmaking projects in the future as well as share their learnings with other organizations who want to try it out as well.

"I think what's exciting is recognizing that everyone has some of that context expertise where immigrants themselves or different levels of staff within an immigrant-serving agency would have experience of what helps with facilitating inclusion in economies; whether that's employment or workforce development or the context in which we feel belonged in a community really sets up grantmaking to be successful when it's grounded in that experience," says Kwik.

Building trust within a community can take a lot of time. Nuri explains that trust-based approaches can, of course, be used even in traditional philanthropy with how a funder builds relationships with grantees. Sometimes funders may collaborate with community members and get their input on issues, but funders still make the final decision on where the funding goes at the end of the day. In participatory grantmaking, however, the trust is embedded in the approach by trusting that the community knows best about their own needs — and allocating money accordingly.

As a relatively new funder, the WES Mariam Assefa Fund is still trying to carve out their own approaches to philanthropy, according to Nuri. This project is a way for them to dive into an inherently trust-based funding method while supporting immigrant and refugee communities — their core mission.

"I don't think our mission is really to transform philanthropy; our mission is to help immigrants and refugees," says Nuri. "But I think immigrants and refugees would really benefit if other funders start funding in the same way."
Written by Neha Chollangi

Read the original article on the Future of Good website
Further Your Learning