Community Engagement so often relies on citizens feeling an affinity and commitment towards their local area or an issue, but what is unique about engaging community in a rural area? What methodologies can be used to increase participation? How can we ensure that all voices are heard? In rural areas it is often harder to focus on one shared issue and to unite a community when individuals are geographically dispersed and each encounters their own nuanced lifestyle and related issues.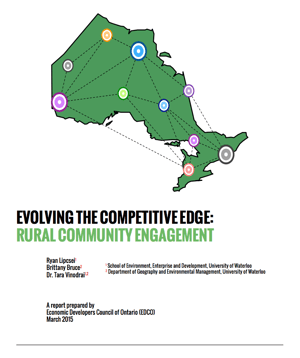 From February 10­-12, 2015, the Economic Developers Council of Ontario (EDCO) hosted their annual conference which included a session co­hosted by the Rural Ontario Institute (ROI) and the Ontario Ministry of Agriculture, Food and Rural Affairs (OMAFRA) entitled "Rural & Small Communities ­ Evolving the Competitive Edge: Rural Community Engagement." I was invited to speak about Community Engagement and share ideas and tactics for deepening community engagement. Session participants then joined roundtable discussions to share success stories, resources and tools; discuss barriers to engagement; and to brainstorm solutions. Students from the University of Waterloo's Local Economic Development (LED) program volunteered to facilitate the discussion and take detailed notes, resulting in a report entitled Evolving the Competitive Edge: Rural Community Engagement which provides an overview of the session and synthesis of the key findings and outcomes produced through the discussion.
What are the Barriers to Rural Community Engagement?
Through the roundtable discussions, participants revealed barriers to successful community engagement within rural communities. These challenges can be found during the initial consultation phase, as well as in subsequent phases as a project or initiative moves towards implementation. Paul Born #02 interview (with Paul Bishop) Redland City 2015 from Paul Bishop PLUS 07:07 Barriers identified by participants included:
Gaining initial traction can prove difficult if there is little political will
Public officials may see community engagement as foolhardy and may feel that they are elected to speak for their constituents. This view was most prevalent in communities where elected officials have been in office for a long time
Tensions may exist between newcomers, seasonal residents and established residents and reconciling the views of these distinct groups might prove difficult
In some rural communities, residents without deep local roots were viewed as outsiders
In communities considered 'bedroom communities', the level of interest amongst residents is often diminished because of the lack of a personal connection with their place of residence
Rural communities often face unique logistical challenges organizing community engagement sessions, particularly given the large geographical areas they cover. Lack of public transit can also be a barrier to participation
Municipal leaders may struggle with turning feedback into action
It may be necessary to manage public expectations about what is possible within financial and regulatory constraints
Municipal leaders and community members are often risk averse to participating in community engagement efforts
Being aware of these potential barriers is helpful. It is easier not to get stuck when you can foresee the potential tough points and assign resources and efforts accordingly. Even being in a room with others who had experienced similar barriers was a worthwhile step in sharing, commiserating together and generating options for effectively moving forward.
What Does Successful Rural Community Engagement Look Like?
Participants were asked to think of organizations or groups within their communities who are demonstrating exceptional leadership in community engagement, and to share what success looks like.
Principles for success include:
Always use multiple channels for engagement to capture a diversity of perspectives and reach all corners of your community. The mechanisms for outreach and engagement have expanded rather than changed, so social media and other technologies need to act as a complement to rather than a replacement for traditional outreach and engagement techniques, especially in rural areas.
Successful community engagement requires organizational and political leadership. Having political leaders visibly involved in the engagement process helps dispel the common perception that politicians may withhold information and allows for the engagement to be more sincere, open and transparent. Local officials are also able to set clear objectives and goals to help guide public participation and engagement that is aligned with other activities.
Successful community engagement also requires public leadership. Utilizing local social capital is vitally important, and allowing citizens to take on such roles not only increases the level of public impact, but frees up local staff to take on other projects.
Feedback and follow­through are critical. The public wants to know that their voices mean something and that the time they have invested has made a difference and has had an impact. Participants should know what stage of the planning process they are stepping into so they can provide appropriate input. This also helps to manage expectations around how much the community can affect the outcome.
Smaller scale efforts can often achieve greater results since citizens or key stakeholders may only have an interest in certain aspects of a project. Use targeted, smaller scale events, surveys, and meetings that all connect into a larger project or issue. Read the full report to learn more about the unique barriers, successes, and tools for community engagement in rural communities and be inspired by two case studies of successful rural community engagement initiatives.
Read the full report
to learn more about the unique barriers, successes, and tools for community engagement in rural communities and be inspired by two case studies of successful rural community engagement initiatives.