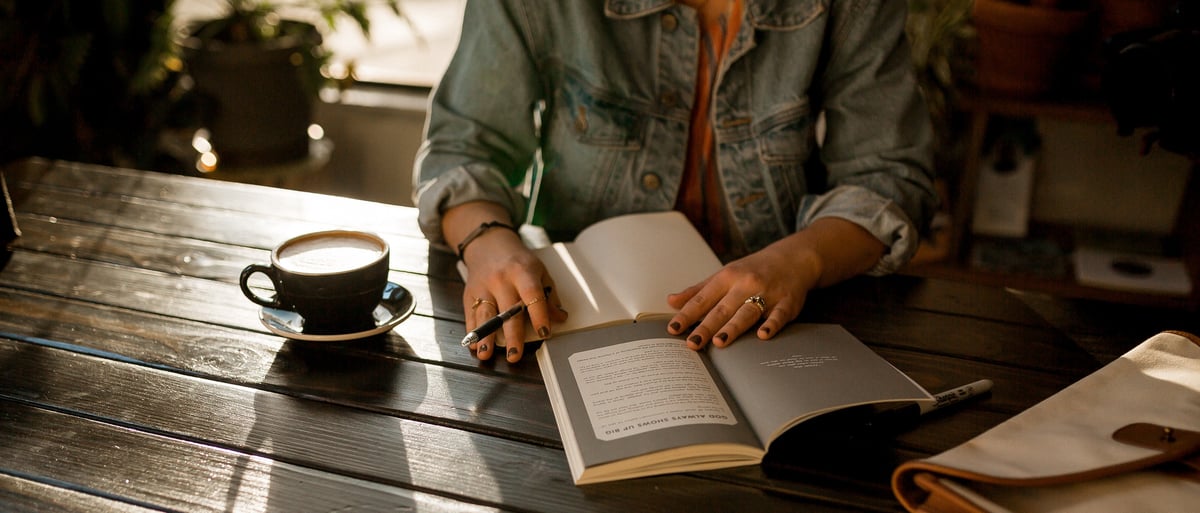 Today, the Community Climate Transitions team is excited to launch a new blog post series called Climate Reads.
In recognition of Earth Day, which occurs every April 22 to mark the anniversary of the birth of the modern environmental movement, we are kicking off our series with a first round-up of books focused on the theme of hope and action.
While our post is by no means exhaustive, the books in this collection hold powerful stories of courageous leadership and visionary example. They are packed with actionable strategies and thoughtful prompts that invite all of us to rekindle our love of nature, honour our climate emotions, build intersectional communities, and find joy and hope in the work ahead.
Read on to find your next favourite book!
By Kinari Webb, MD
Memoir
This memoir tells the story of Kinari Webb's journey from medical doctor to pioneering conservationist. The story starts in Indonesian Borneo in 1993, when Webb witnessed first-hand how the need to pay for expensive healthcare was leading local communities to log precious rainforest in order to generate income – even if at the risk of causing further health problems down the line. Moved by their plight, Webb went on to found two sister nonprofits (Health in Harmony in the U.S. and ASRI in Indonesia) to work in close partnership with local communities through a methodology called "radical listening." Inspired by countless, locally-embedded listening sessions, Webb and her team learned directly from people on the ground how to advance solutions to rainforest protection in ways that align with the tenets of planetary health.
Together, they gave life to a model of regenerative economics that continues to deliver accessible healthcare, educational opportunities, and innovative approaches to ecological conservation to thousands of people. Today, Health in Harmony partners with communities in 3 countries to protect 9.4 million hectares of high value rainforest and has won a UN Climate Action Award for its work. Keep reading to learn about the rest of this story still in the making!
Edited by Rebecca Solnit and Thelma Young Lutunatabua
Essays
Climate activist Thelma Young Lutunatabua and renowned essayist Rebecca Solnit have joined forces to bring together some of the most compelling voices from the climate movement in a collection of short essays that is here to tell us that it's not too late to mitigate the harms of climate change.
Featuring stories from around the world, this edited collection provides a well-rounded and thought-provoking overview of climate change's many dimensions, from the political and scientific to the social and emotional. Included in the collection are contributions from Indigenous activists such as Guam-based attorney and writer Julian Aguon, climate scientists (among them Jacquelyn Gill and Edward Carr), artists such as Marshall Islands poet and activist Kathy Jeñtil-Kijiner, and longtime organizers, including The Tyranny of Oil author Antonia Juhasz and Emergent Strategy author adrienne maree brown.
Deeply accessible and engaging, Not Too Late helps readers "understand the issue more deeply, participate more boldly, and imagine the future more creatively."
By Leslie Davenport, illustrated by Jessica Smith
Kids
There's no denying that climate change is an intergenerational issue. We know that younger generations will disproportionately feel its effects in the years to come. In All the Feelings Under the Sun, therapist Leslie Davenport – a pioneer in the emerging field of climate psychology and author of books such as Emotional Resiliency in the Era of Climate Change – helps young readers find age-appropriate information about climate change and discover the tools they'll need to protect their mental health while continuing to work towards positive change.
A finalist for the Kids' Book Choice Award, the book is illustrated by Jessica Smith and features a range of informative texts, self-guided activities, journaling prompts, and much more to inspire the next generation of climate activists to take an "eco-wise" approach to life on a changing planet.
By Leah Thompson
Non-Fiction
Perhaps you keep hearing the term 'intersectionality' and you'd like to deepen your understanding of it. Or maybe you're familiar with the concept but would like to better understand how it connects to climate change. Long-time activist and 2022 Time100 Next honoree Leah Thomas coined the term 'intersectional environmentalist' precisely to shed light on the many dimensions of this planetary crisis. In this book by the same name, Thomas unpacks the connections between environmentalism, racism, and privilege, and advocates for a truly inclusive approach to climate action and solutions. As she puts it, "When communities of colour, who are impacted the most by environmental injustices and are also leading the way in creating solutions, are included in environmental decision-making, movements, and educational systems, environmentalism will be brighter, more equitable, and more revolutionary for all."
By Katherine Hayhoe
Non-Fiction
Climate scientist Kathryn Hayhoe is a United Nations Champion of the Earth who makes a compelling case for hope and optimism. As a Canadian living in Texas, Hayhoe is well-versed in divisive political environments where distrust of science and climate denialism are rampant. In response, her book offers "a multilayered look at science, faith, and human psychology" to help us move past pessimism and polarization and find solutions for collective action. Saving Us does all this through an impressive mix of interdisciplinary research and personal stories, reminding us once again of the difference that small conversations can make even in unlikely places.
By Angele Alook, Emily Eaton, David Gray-Donald, Joël Laforest, Crystal Lameman, and Brownen Tucker
Non-Fiction
This book makes a compelling argument for why a livable future cannot be conceived as separate from Indigenous sovereignty and climate justice. Its authors draw from their extensive experience in Indigenous, labour, youth, and climate activism to "challenge toothless proposals and false solutions" and prove why a just transition from fossil fuels cannot succeed without the dismantling of settler capitalism in Canada.
Drawing on community-engaged scholarship and independent journalism, the six authors guide their readers through an impressive array of short- and long-term strategies for radical social change, ranging from a caring economy that supports all, to land reclamation, the end of fossil fuel extraction, and more.
Edited by Grist
Fiction
Edited by Grist, the longtime climate solutions media platform, Afterglow is one of the most exciting collections of 'speculative fiction' published on the topic of climate change to date. Speculative fiction is a cutting-edge literary movement – encompassing genres such as Afrofuturism, hopepunk, and solarpunk – that invites readers to imagine bright new futures where no one is left behind.
The vivid short stories featured in Afterglow are no exception. They are at once hopeful and forward-looking, painting a picture of a radically different society in which, "whether through abundance or adaptation, reform, or a new understanding of survival", climate solutions double as an avenue to help our communities thrive and experience joy.
By Chris Turner
Non-Fiction
In the early 2000s, Chris Turner's Geography of Hope took readers on an inspiring tour of the places and communities at the frontlines of the sustainability revolution. In his new book, the Canadian journalist "condenses the first quarter century of the global energy transition into bite-sized chunks of optimistic reflection and reportage."
Rather than dwelling on ineffective narratives of despair and collapse, his reporting harnesses the passion of communities worldwide to show how, even in moments of great upheaval, glimpses of a better future are not only possible, but are all around us.
By Megan Kennedy-Woodward and Dr. Patrick Kennedy-Williams
Non-Fiction
The terms 'eco-anxiety' and 'ecological grief', once niche, are now increasingly familiar to many of us. In this book, professional psychologists Megan Kennedy-Woodward and Dr. Patrick Kennedy-Williams offer insights and hands-on strategies for dealing with 'climate feelings' in all their complexity. In addition to validating them and helping readers harness their power, this book gives space to the often-overlooked role that positive emotions such as motivation, connection, care, and abundance play in fuelling not just mental health but sustainable climate action, too. As they put it, "the solution to both climate anxiety and the climate crisis is the same: action that is sustainable for you and for the planet and that empowers you to take steps" in this very direction.
By Liz Carlisle
Non-Fiction
Lovers of food, public space, and community-building will appreciate this collection of inspiring stories of food-powered local action from Indigenous, Black, Latinx, and Asian American farmers. From reviving ancestral traditions to restoring native habitats, from nurturing beneficial fungi to feeding community, the stories in Healing Grounds prove that mitigating CO2 emissions doesn't necessarily require highly technical expertise or convoluted international trading mechanisms to work. Climate action can start with us, in our very backyards.
Keep reading to learn how these farmers are repairing the natural carbon cycle while revitalizing cultural ties to land, feeding their communities, and taking a holistic approach that values diversity in both plants and people.
by Joanna Macy and Chris Johnstone
Non-Fiction
On the occasion of its ten-year anniversary, celebrated environmental activist and author Joanna Macy returns with an updated edition of her groundbreaking book, Active Hope. Drawing on decades of teaching an empowerment approach known as the Work That Reconnects, she and her co-author "guide us through a transformational process informed by mythic journeys, modern psychology, spirituality, and holistic science." These modalities help us understand, confront, and integrate our climate emotions, tap into inner reserves of strength and creativity, and understand the interconnected and systemic nature of the work ahead of us.
We all have a role to play in the ongoing climate transition, and this book will offer reassurance, guidance, and motivation to those looking for a way contribute to this important process – be that as climate newbies or as a seasoned climate advocates.
By Jeremy Williams
Non-Fiction
As an intersectional issue, we can't talk about climate change without acknowledging its structurally racist roots. From Kenya to India, the United States to Australia, author and environmental campaigner Jeremy Williams takes readers on a journey around the world to help them better understand the ways in which privilege (particularly white privilege) overlaps with climate change to give rise to racial and environmental injustice.
In addition to unpacking important environmental facts, the book gives visibility to the experiences of the people most affected by climate change and features the contributions of leading activists working to mitigate its harms.
By Leah Lakshmi Piepzna-Samarasinha
Non-Fiction
A truly equitable transition is one that reimagines existing systems to make them more accessible, caring, and reliable for all. Care Work celebrates, and is inspired by, the countless contributions that disability justice advocates and folks with living experience have made over the years to reimagining care in all of its facets. As a movement, disability justice "centers the lives and leadership of sick and disabled queer, trans, Black, and brown people", whose vision, knowledge and gifts have much to teach us in the climate transition ahead.
Written by Lambda Literary Award-winning writer, longtime activist, and performance artist Leah Lakshmi Piepzna-Samarasinha, Care Work is truly indispensable reading for anyone wishing to "build radically resilient, sustainable communities of liberation where no one is left behind."
By Andreas Malm
Non-Fiction
Not only is How to Blow Up a Pipeline a provocative book, but it is one of the few pieces of writing to have unequivocally brought climate change to Hollywood. Written by Andreas Malm, Swedish author and Associate Professor of Human Ecology at Lund University, the book goes straight to the heart of the problem: the need to put a quick and decisive end to fossil fuel extraction. In a world on fire, Malm argues, we cannot afford to squander any more time – especially as those responsible for the climate crisis continue to profit from it at record levels.
Taking readers on a journey through the forests of Germany, the streets of London, the deserts of Iraq and more, Malm explores the continuum of pacifism and violence, democracy and social change, and "makes an impassioned call for the climate movement to escalate its tactics in the face of ecological collapse."
By Richard Powers
Fiction
The Overstory won the 2019 Pulitzer Prize in Fiction for its "impassioned work of activism and resistance that is also a stunning evocation of – and paean to – the natural world."
Written with great reverence for trees and what they can teach us, Powers' book is structured in four sections that mirror the life cycle of a tree: roots, trunk, crown and seeds. As a work of climate fiction, The Overstory is a sweeping meditation on the relationships that humans have with trees, with each other, and with time. In a society going at increasingly higher speeds, impatient and disconnected from place, trees represent an example of continuity and generational wisdom, offering precious insights as we confront the ultimate generational challenge of our times: climate change.
In a recent interview, Powers stated that "climate change is a psychological problem," and this book makes an eloquent case for why our best way out of this existential crisis is through hope. And the wisdom of trees.
Stay tuned for the screen adaptation coming soon to Netflix!