Over the last 5 years, the Deepening Community network has been a timely and powerful response to the growing social isolation, loneliness, and disconnection occurring across Canada. This is a network where citizens and leaders are exploring the unique role that communities and neighbours play in creating positive futures. Together, we are discovering the power of community as an essential driver of social change. The foundation of the Deepening Community movement is based on the four pillars of deepening community established in Paul Born's best-selling book Deepening Community: Finding Joy Together in Chaotic Times.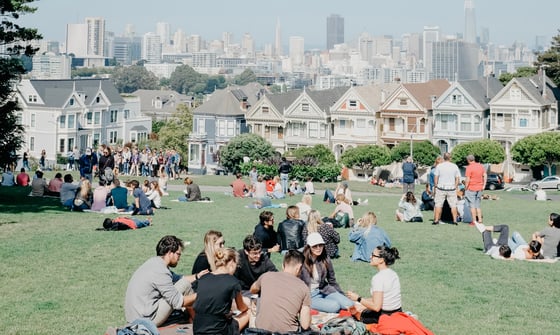 Within the Deepening Community network, we partner with communities to develop and implement community plans and provide supports and resources that make community work easier and more effective. We adopted a proven membership model that was tested with the Communities Ending Poverty network to support our members and learners through the following steps:
Engaging a diverse cross-section of citizens to craft a shared vision for the future of their community.
Growing from forming a citizen strategy team to building and then implementing a neighbourhood or city-wide common agenda
Building, writing, and implementing a multi-year community plan.

Documenting and reporting on impacts.

Supporting leadership and financial sustainability.
By defining the field, we have rooted the movement in a theoretical understanding of the issues and a practical understanding of what is happening on the ground in communities to build a movement. Our growing membership implements this framework to develop positive change in communities, and our robust supports accelerate efforts and impacts locally. Finally, our growing learning community of over 8,000 learners has built the foundation to spread this movement throughout the rest of Canada.
In the recent Deepening Community 5-Year Impact report, we highlight four key impacts over the last 5 years:
We defined the field of Deepening Community in Canada

We developed a growing membership of communities that are having an impact

We implemented and expanded our technology to support changemakers

We built a learning community to accelerate the impact of the movement to deepening community
For a field to grow from momentum to a movement, it needs to be established in both the practical experiences happening on the ground and a strategic framework for growth. We have been successful in defining the field of deepening community across Canada because of its strong connection to the work that is happening in communities, supporting changemakers through events and coaching, and thought leadership in Collective Impact and Asset-Based Community Development.
As we navigate a challenging recovery from the pandemic and try to find a sense of normalcy in our lives, we know that community is the answer to building back better. Over the last five years, we have had tremendous buy-in and growth. This work is a powerful tool to address the growing social isolation, loneliness, and disconnection that people are feeling across Canada and to create the social infrastructure for community leaders to create places with residents that allow everyone to thrive.
Imagine cities and towns across the country having an impact on individuals because they have;
increased sense of belonging

improved equity inclusion

deepened sense of citizenship

strengthened resilience

enhanced community security

improved community wellness

empowered local economies
The next five years have tremendous potential to take this movement to a whole new level. The possibilities are endless!
Learn More: