There have been many important articles written about how COVID-19 is affecting the mental health of our youth. Statistical data reports, youth-led articles, parent editorials and social media that has been sharing the youth story with the world since March 2020.
What we can't lose sight of, is how we as adult ally's, can actively hold space and come alongside youth in support. Allies, who are ready to partner with youth in this difficult time.
An adult ally is someone who supports youth and is willing to come alongside a young person to offer support in things that matter to them. An adult ally takes the time to build a strong rapport, help youth achieve their goals, and advocate with them as partners. One great resource to learn more about how to do this, is Walking the talk: A toolkit for engaging young people in mental health.
Now more than ever we need to recognize that what youth are going through is something that has never been experience by a current generation. As adult allies we can hold space to listen, take time to ask questions and gain understanding, offer support, and work with youth to co-develop services, systems and supports that are meaningful to them.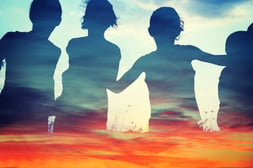 We know developmentally, the greatest asset for youth is to have a caring adult in their lives..1 Being an adult ally can range from informal, something we can do as caring neighbours, friends, teachers and relatives to formalized, through youth engagement practices within organizations and systems.
Take time today to reflect and consider how youth might be experiencing COVID life. Better yet, take time to talk with youth, hear their stories, listen to their truths and offer to come alongside them in areas that matter to them.
Ways you can make a difference:
Let youth in your life know that you are available and ready to help by taking the time to build a strong rapport and listen to their experiences.
Create a safe space for real and difficult conversations, so that it is safe for youth to share their experiences, ask for help and be problem solvers.
Remember that we are not the leaders in the conversation, but allies who can help youth to find and access the resources and services they need, when and where they need them.
Consider the different ways urban and rural youth might be experiencing the pandemic, including access to internet, connection, friends and family.
Be mindful of the language and messages we are sending when we make broad statements like, "Everyone is going through a hard time right now." Although this may be true, we cannot let it diminish individual experiences or needs.
Remember that mental health is health. We may "all" be going through a hard time right now, but we do not need to go through these difficult times alone. We all need someone to talk to, and stigma around mental health needs to end.
The pandemic has created a shift in the way we interact, opening new doors and closing others. While we may have to be social distanced, we can grow closer as people, creating strong and caring communities that support one another by being open to learning, new ways of thinking, and creating space for real and caring relationships.
The root meaning of courage is to "speak one's mind and tell all, one's heart." So, to all the youth, thank you for your courage, for being leaders in navigating this pandemic, for sharing your experiences and helping us learn how to be better adult allies. We appreciate you and recognize that you are the first youth to experience pandemic life. There is no mentor or lived-experience for this, you are the first. We will learn from you, with you and so will future generations.
From an adult ally who is in awe, full of gratefulness and hope because of the next generation…Thank you.
Learn More:
---
1. Developmental Assets. https://www.search-institute.org/our-research/development-assets/developmental-assets-framework/