2018 has seen a resurgence of discussions around the concept of a guaranteed basic income. Discussions around a guaranteed income are being promoted across the political spectrum, by different levels of government, and by organizations throughout Canada.
At the Provincial level, the Government of Ontario has taken the lead on the conversation and has implemented a Basic Income Pilot Project, which launched in 2017 and reached full participation by April of 2018. The Ontario pilot includes residents of Hamilton, Brantford, Brant County, Lindsay, and Thunder Bay, and consists of two groups. The first group is made up of 4,000 individuals who receive monthly basic income payments for three years and 2,000 individuals who will act as a comparison group. The pilot is being monitored to determine the program's impact on food security, stress and anxiety, mental health, health care usage, housing, education, and participation in the labour market.
While the pilot project is just beginning, and being reviewed by a third party research team, early reflections from participants are positive. Participants are reporting improvements in their mental and physical health, access to educational opportunities, and sense of independence. Additionally, proponents of the pilot expect to see individual and system wide improvements for communities involved in the pilot.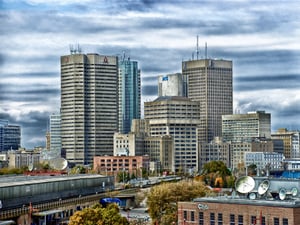 Outside of Ontario, the Winnipeg Chamber of Commerce recently proposed establishing a 5-year minimum income pilot project model, as part of their submission to the Province of Manitoba's consultation on a new poverty reduction strategy. The Winnipeg Chamber of Commerce recommended a made-in-Manitoba study, which would focus on local realities and study social outcomes, labour market participation, and impact on the administrative burden of social programming.
At the Federal level, the Government has indicated they are monitoring the Ontario project closely, prompting Conservative MP Pierre Poilievre to request a report from the Parliamentary Budget Officer on implementing the Ontario pilot across Canada. The report from the budget office noted that a national project similar to Ontario's would cost $76 billion and provide assistance to 7,730,000 Canadians. However, the budget office also noted that the cost of the program could be partially offset from partnerships with Provincial governments and savings from merging other assistance programs.
The above examples, combined with the growth of discussions around the basic income concept, show that governments, business leaders, and community organizations are all looking for effective and innovating mechanisms to address inequality, poverty and the impacts of automation. Given the early success of Ontario's pilot, it is likely that these are just the beginnings of a much larger conversation about the role that universal basic income programs can play in system-wide efforts to eliminate poverty.
Learn More: