A part of me dreads the day when my children are old enough to have their own smartphones. Teens head down and fully consumed in their apps is typically an image of total disengagement.
But, so many of us have smartphones - more than 85% of us. We use them to read more than 50% of our emails, and the things we do "on the go" are evolving the way we engage with each other and our community.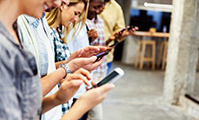 In Boston, a Street Bump app was created to improve streets, allowing drivers to automatically detect and report potholes. In Guelph, the SafeGryphon app helps university students sound an alarm or find safe places on campus. In 2013, #GivingTuesday Tweets sent 700% more visitors to Canadian donation pages than on any other day, driven primarily from mobile devices. In fact, over 10% of North American smartphone users text messaged a donation to a campaign in need in 2015.
Perhaps that image of disengagement is not so representative of smartphone users after all.
3 signs your engagement efforts are mobile-friendly:
One design. Multiple platforms. Your website looks great on a desktop, smartphone and tablet. If not, consider moving to a platform that creates one site that looks great on multiple screen sizes.
Efficient Composition. When trying to get your message out by email and social media, you follow the "less is more" rule. Use of graphics, tables, bullets and headers is sparing or perhaps not at all.
Don't get too attached. Links and attachments are included only if accessible on the go or you summarize the content for your readers because, chances are, your email will be forgotten once readers return to their desktop.
Learn more: