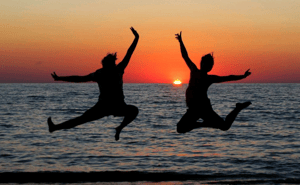 How can we work together more peacefully, productively, and equitably in 2019? When working with others is challenging, what can we do to make it easier?
These are the questions we asked ourselves as we developed a framework for collective leadership. Via 5 Elements of Collective Leadership, we came up with 11 collective leadership practices that invite shifts in mindset, skills, and behaviours that can help us - when we are struggling to work with each other.
If you are working to help communities thrive, you are working with others. No matter what your role, you can adopt and promote practices which help groups work together better - more peacefully, more productively, and more equitably.
Where to start? Wherever you are. How can you increase trust and embody the shared goals that you all share? If you are like many groups, there may be a nice document that talks about shared goals, roles and responsibilities, and maybe even a vision statement. However, it is less likely that these shared goals are brought to life at every meeting. And if there aren't clear agreements that forward the work or accountability, things can get confusing. Is the group diverse and representative of the community? Who is at the table and who isn't? How is the group recharging itself and bringing to life the shared aspirations, dreams, and wishes for their community?
We are offering a webinar series in 2019 - with a webinar focusing on each of the 11 collective leadership practices. The webinars are free and they will all be recorded.
We have heard from people all over asking us for more suggestions on how to do it - the it being collective leadership. It sounds great to share leadership across organizations and bring all the voices in a community into the work, yet it can feel elusive. If you are Interested in jumpstarting your work with others join us for this series so you can work others with even more excitement and maximize the skills, talents, and contributions of each person.
We get started on Friday February 1, 2019 with a focus on building trust and identifying shared goals. Our March focus is adopting a mindset of abundance.
Learn More:
Want to know the all the topics in advance?
Building Trust and Identifying Shared Goals

Adopting a Mindset of Abundance

Navigating Difficult Conversations and Conflict

Practicing Self-Care and Building Resilience

Taking Turns and Sharing Roles

Building on Strengths

Shared Decision Making Made Easy

Activate Collective Wisdom

Embracing Accountability

Feedback that Supports Growth and Development

Learn, Reflect, and Do Better