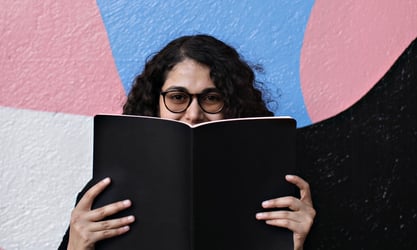 When I was invited to co-host a workshop called A Professional's Guide to Working with Young People in Citizen Space in December, I felt very nervous. I do not have much experience with any kind of business meeting, and I was afraid I would slip up. When the call began, everything changed. It felt less like a meeting or workshop and more like a classroom. This was an environment I was already comfortable in, so I felt a lot more relaxed. I realized that everyone was not expecting me to have professional experience and knowing that allowed me to feel more comfortable. There were many lovely people in the workshop that built off the knowledge I shared, and I felt like I had a real role.
Cormac Russell, the facilitator of the workshop, was an amazing person to work with. His experience made him a valuable source of information. The reason this workshop was different, was because Cormac may have been leading, but his role was more asking the questions and telling the stories to begin the conversations amongst the people within the workshop. I took away more than I normally take away from classes because I was able to connect to other people's experience.
This workshop was about a very important subject: engaging youth. Youth are often judged as being self-centered and having no sense of community. As a youth, I can say this is quite the opposite. We grow up in communities that have been established for many years. The difference between communities established by previous generations and communities established by youth is that they function differently. When youth are involved in communities, it can be complicated. Some youth thrive and can develop and incorporate themselves within that community, while others feel alienated. Youth may feel alienated from communities for different reasons. These include different forms of discrimination, judgment, and the feeling of being controlled.
I feel as though the volunteer hours system (in Ontario) that high schools have in place has the right intention, yet it has poor execution. It can feel like you have received a punishment for community service hours. Rather than punishing youth for not participating, they should instead be welcomed and benefit from those hours. It should be a choice. Rather than not graduating if you don't complete your required hours, make it so that it can earn you something on your record or diploma. Rather than set others back, push them forward. This mindset would encourage youth to participate, and better yet, participate with a positive mindset. To touch on communities established by youth, everything from lunch groups to school teams are established by youth. They make the choice to connect with each other and interact. By definition, community is a feeling of fellowship with others, as a result of sharing common attitudes, interests, and goals. Youth communities may not be as large as communities that have been previously established, but to say that youth have lost their sense of community is not true.
This workshop also touched on a very interesting subject; youth having a sense of belonging within communities. All youth could benefit from roles, as that is what creates that sense of belonging. For me, I found that sense when I was invited to umpire for youth baseball. Knowing that I was overseeing not only an opportunity for youth to connect with others and build their community but overseeing an opportunity for other adults to connect as well and strengthen the already well-established community. That sense of gratification is what I as well as many other youths like about volunteering. Personal satisfaction.