Building Bridges for Collaborative Success is a resource for organizations seeking to build sustainable partnerships through the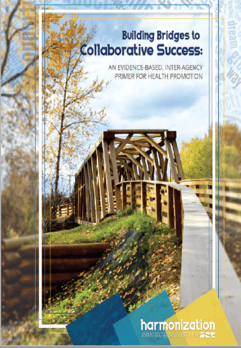 power of collaboration.
Evidence-based and aptly named a primer, the resource is the result of 4 years of collaborative health research between the Canadian Cancer Society, BC Cancer Agency, Northern Health, University of British Columbia and Athabasca University, termed the Harmonization project.
The primer brings the collaborative experience to life with 'living labs' offering team member reflections. Thoughts on team dynamics, project hurdles, decision making, and communication are openly shared throughout the primer, adding to its readability and real-life authenticity.
In addition to identifying 7 phases of collaboration, embedded links to resources supplement the primer with hands-on tools for collaborative success. Community partners seeking change through collaboration will find this primer helpful, as will those groups seeking to ensure the sustainability of existing collaborative projects.
Learn More: