Creating a healthy, humane world will require more than new organizational designs, writes Hildy Gottlieb in a recent Stanford Social Innovation Review article, Building Movements, Not Organizations. It will take rethinking the nature of organizations entirely.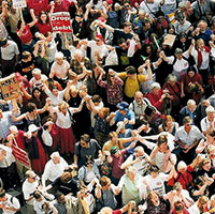 Gottlieb, co-­founder and current acting Chief Mission Officer of Creating the Future, argues that the sweeping social changes of the last century have been accomplished by movements, not individual organizations.
What are the differences between seeing through the lens of a movement versus that of an organization? Gottlieb encourages those of us working in socially minded organizations and businesses to reframe our understanding of success, leadership and means.
For instance, governance of movements is about values, strategy, and direct action, whereas governance in organizations is often about regulatory compliance, oversight, and risk management. Strategy, Gottlieb argues, is most often developed by others in the organization, and then approved by those "in charge."
The social change arena is continually experimenting with new organizational forms, why can't we? Gottlieb's call for movement building urges us to examine the way we organize ourselves to create change and to reconsider what's possible. What does leadership mean? How can our collaborations be more inclusive? What results are we working toward, and have we organized ourselves accordingly to achieve the changes we wish to see in the world?
Learn More: