An early passage in Paul Born's book, Deepening Community: Finding Joy Together in Chaotic Times, reflects on how the act of bringing your neighbour soup is the single most important thing people can do to make a difference in this world.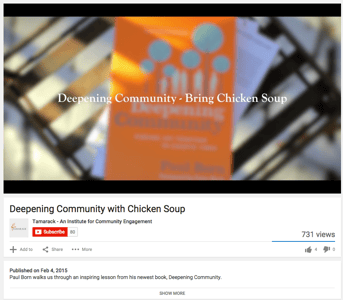 This story was top-of-mind for me on an icy, blustery day as I drove home to Peterborough from Caledon after joining Sylvia Cheuy for our first face-to-face meeting at her home. As a new member to the Tamarack team's Deepening Community Learning Community, I was looking forward to connecting with my Director to plan and figure out how we could best work together remotely. Sylvia and I had already met during the interview process and had plenty of phone conversations, but there is something ineffable about meeting someone in person and really get a sense of who they are. I was certainly a little nervous, but mostly excited about this opportunity.
When I arrived, Sylvia had prepared coffee and treats for us to share as we checked in and got to know each other better. We then put our heads down to work. Colourful sticky notes on the wall, papers and documents spread out on the table, laptops open, ideas flying, details discussed. By 1:30pm, we were famished! Sylvia said she was looking forward to sharing her favorite soup with me. We talked about our families, our interests and shared opinions on a variety of subjects while we chopped vegetables for this famous Cod Stew. I have to admit, I was a little skeptical of the ingredients and how they would taste when combined, but she assured me it was delicious. I am not one to argue with a chef in her kitchen.
Sylvia did not disappoint. The soup was divine! I ate two bowls and could have eaten more, but I asked for the recipe instead. She said she had shared it on a blog once before and I insisted that we share it again... so here it is!
Download the recipe for Cod Stew.
Watch the video Deepening Community with Chicken Soup.