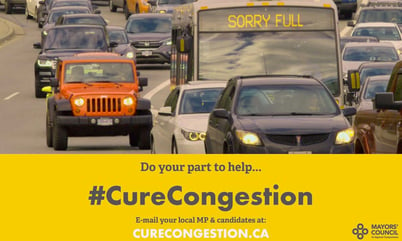 It is no secret – Canadians have made it clear that affordability and sustainability will be top of mind in this fall's federal election. With the cost of living rising in our major cities over the past decade, and a growing population putting pressure on housing and transportation, it's imperative that elected officials at every level of government work together to keep our cities liveable for generations to come.
For mayors such as myself, this means getting local residents and stakeholders involved in advocating for our communities' interests with provincial and federal governments. Ahead of this fall's election, transportation has emerged as a key focus in the Metro Vancouver region, owing to increased traffic congestion, exploding demand for public transit, and the prospect of one million more commuters moving to our region in the next 20 years.
As the Metro Vancouver Mayors' Council on Regional Transportation, we're using the federal election to put a spotlight on this issue by engaging voters in our campaign, 'Cure Congestion'.
The Mayors' Council is made up of local elected officials from Metro Vancouver's 23 municipalities and electoral districts, and is responsible for planning public transportation in our region. Our Cure Congestion campaign is asking all federal parties to commit to a permanent, stable and reoccurring public transit fund that will allow cities to continue making critical investments in our transportation systems. We're making the case that sustainable funding will help reduce congestion, enhance our economy, improve air quality and health, and limit GHG emissions.
National organizations including the Federation of Canadian Municipalities and the Canadian Urban Transit Association (CUTA), as well as local stakeholders such as BC Chamber of Commerce, the University of British Columbia, Simon Fraser University, and the David Suzuki Foundation have joined our campaign to call for dedicated national funding for transportation.
This isn't a topic that is normally at the forefront during a federal election, but one that is crucial to bettering the lives of Canadians. A recent survey by Léger for CUTA found that 75 per cent of Metro Vancouverites believe road congestion is a problem, and 9 in 10 agree public transit helps reduce congestion.
We've taken a collaborative and creative approach to encourage public participation in our Cure Congestion campaign, including an online voter engagement tool, allowing the public to quickly and easily email elected officials. We took the largest ever delegation of Metro Vancouver mayors to Ottawa to personally meet with all major parties. We've made sure that federal decision-makers know that voters and key stakeholders in our region are behind the Mayors' Council in calling for a better approach to transportation investment.
Response from elected officials has been positive and encouraging, but we're continuing to press on in the lead up to the vote. If you would like to join the Mayors' Council, our supporters and local Metro Vancouverites in the fight for better transit across Canada this federal election, visit curecongestion.ca to learn more, or take action by emailing your local MP today.