At Tamarack, our aim has always been to provide leaders with the knowledge and inspiration they need to achieve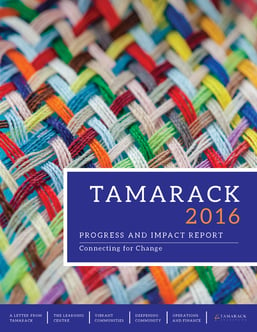 success in their community change efforts. By documenting, generating and disseminating knowledge, both in person and via a variety of channels, we strive to provide community change leaders with the resources and inspiration they need to make their work easier and more effective.
Our 2016 Progress and Impact Report has just been published and we're happy to now share it with you. We also want to recognize and thank the many partners and supporters who have collaborated with us as, together, we support and grow as a connected force for community change. Our accomplishments in 2016 include:
Providing more than 15,000 days of learning for community leaders and change-makers
Hosting 8 multi-day events and 33 one-day events to equip and inspire people for impact
Launching a new website featuring tools, resources, and Five Big Ideas for systems change
Thank you for the many ways in which you contributed to this momentum. Whether it has been through participating in one of our unique learning events, sharing resources, or profiling stories of community change in action in one of our practice areas – Vibrant Communities Canada and Deepening Community – we remain focused on supporting efforts to translate theory into practice.
In 2017, the work of creating engaged, inclusive communities is more important and urgent than ever. Responding to our learners' evolving needs, Tamarack will introduce new event curriculum in 2017. We'll ensure our website is where you can find the latest in community change. And, we'll keep advancing understanding about collective impact and how to harness its value as fully as possible.
Join us in Kitchener, Ontario from May 9– 11, 2017 for the debut of our newest 3-day learning event. Collective Impact 3.0 will bring together experts, practitioners and early adopters to share their emerging practice, lessons learned, insights and challenges in collective impact. We hope to see you there!
Learn More: