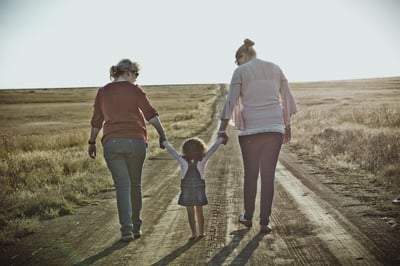 Natural Caring is love in action. It exists all around us in the thousands of little things we do without having to think about them. It is a unifying force that transcends differences; and yet, it often goes unacknowledged and unrecognized. Even people who are routinely caring for someone or something are quick to brush it off as no big deal.
But it is a big deal. Natural caring is foundational to building a kind and connected world. We are being fed a constant diet of fear-based bad news stories and issued warnings to avoid strangers and remember to lock our doors. Being inundated with these messages shapes how we see the world; it affects our feelings of safety and security. If instead we shine a light on the natural caring happening everyday all around us by our friends, co-workers, neighbours and even strangers; our perspective will begin to shift. Suddenly the world feels a lot less scary. Reaching out to offer kindness and caring becomes possible when we feel safe and when it has become the norm. So, let's shine a light on natural caring.
Vickie Cammack and Al Etmanski are aiming to do just this by initiating a conversation around Natural Caring. They have started with a definition of natural caring as a freely given action with three core qualities:
Natural Caring involves a relationship with someone or something we care about – it is not something we are typically paid to do.
Natural Caring is flexible and responsive – it is not prescribed.
Natural Caring is reciprocal – there is a deep exchange within every act of caring and it benefits both the giver and the receiver.
Natural Caring is not always glamorous, and it often involves sacrifice. But with 80% of caring being natural rather than paid, as Al Etmanski recently said, "it is from the heart, it is generous, it is determined and it is relentless." It is not about a larger goal, it is simply what we do everyday. This kind of fundamental, unifying life force deserves to be acknowledged and celebrated. The current challenge then is perhaps best summed up by Bryan Adams in his 2019 song Shine a Light: "Shine a light everywhere you go… Shine a light with everyone you know."
Further your learning: