Every time the Olympics come around, I cannot help but feel inspired. Watching the best athletes in the world compete has pushed me to better myself athletically.
I've been told that ever since Penny Oleksiak won Canada's first gold medal, her hometown pool has been inundated with aspiring swimmers. People, like myself, who were probably inspired by the world-class athleticism that is on display in Rio de Janeiro.
Being able to participate in sports is a great way to meet people in your local community. It is also a chance to engage in a pastime that enriches one's health. Unfortunately, not everyone is in a position to afford the costs associated with many modern sports.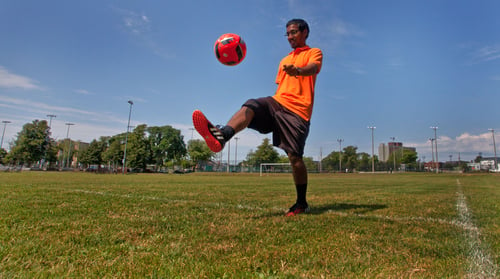 In Halifax, two young university graduates are doing all they can to ensure broader access to team sports. Shitangshu Roy founded an organization called Halifax PLAYS four years ago. It is a non-profit organization that helps to create an affordable way for people in Halifax to play team sports.
Team sports often come with fees that can make them inaccessible to those with lower incomes. It's the goal of Halifax PLAYS to alleviate some of those financial concerns.
In the first year of operation, the organization's soccer league received so much interest that Roy and his colleague chose to open a second league. Since then, the organization has grown so much that it now offers the chance to play ball hockey, softball, and flag football. They hope to soon offer lacrosse, rugby, and curling as well.
The inclusivity of the project is what stands out as the most important feature in engaging the Halifax community. Anyone can play. If they aren't able to pay they can play for free, or volunteer their time in compensation.
"You impact them, they impact others and it goes on. I'm most proud of that. The volunteers and the players and the great community here in Halifax keep me going." –Shitangshu Roy
In the first few years of operating, more than 2,000 players have participated in a Halifax PLAYS league. It has proven to be a fantastic outlet to engage citizens with greater health and fitness. More importantly, it is an opportunity to connect aspiring athletes with one another.
Halifax PLAYS co-founder Shitangshu Roy by Jeff Harper/Metro
Read the full article from Halifax Metro here.