Help your #Nbrhdhero win a full scholarship to the 2016 Deepening Community National Gathering!
Neighbourhood Heroes are those individuals that make our neighbourhoods healthier, more vibrant, and inclusive places to live. A neighbourhood hero is someone who has mastered the act of caring, and understands the art of neighbourliness.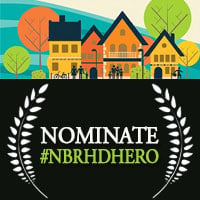 Who is a #Nbrhdhero?
A Neighbourhood Hero is different forevery person and every community - it is up to you to discover what that means in your neighbourhood! It could be:
The 10-year potluck organizer
The one who never gave up on city meetings
The hero who finally got that community garden set up
Your friendly neighbourhood association member
The hero who welcomes each and every new neighbour as if they've been friends for years
How Does It Work?
Step 1 - Submit nominee by Sunday, May 1st, 2016
Step 2 - Nominees will be profiled on our site & voting information will be shared with nominators via email
Step 3 - Share, share, share! It will be up to you and your networks to share the contest and encourage people to get online and vote for your #nbrhdhero. Voting takes place from May 2nd - May 8th, 2016
Step 4 - The nominee with the most votes wins! The winner will be notified by an e-mail that will include all of the terms of participation and will be announced publicly on Monday, May 9th
Learn More: