We are at a pivotal time where the world is carefully and optimistically opening up, and though we may still be in the midst of the ongoing ebb and flow of the pandemic with continued social distance measures, this does not mean we cannot be socially connected. Many of us however have been disconnected and isolated, and though the trend was being experienced long before the pandemic, the pandemic has created and exacerbated the problem.
A study conducted by the GenWell Project and the University of Victoria during the pandemic's third wave revealed 60% of respondents reported feeling lonely several times a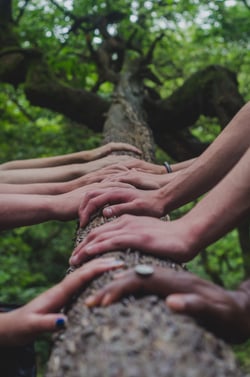 week, with almost half reporting feeling lonely daily. The Canadian Social Connection Survey highlighted the importance of human connection (e.g., with friends, family, coworkers and neighbours) in fighting loneliness.
On August 18th, we were joined by Risa Wilkerson from Healthy Places by Design and Amanda O'Rourke from 8 80 Cities in a conversation that framed the rise in social isolation as not merely a personal choice or individual problem but one in which is rooted in community design, social norms and long-standing system injustices. The accompanying Socially Connected Communities - Solutions for Social Isolation report identified five recommendations for action:
Design, maintain and activate inclusive public spaces
Prioritize connection in transportation systems
Construct housing environments that build community
Invest in inclusive practices and community-led solutions
Make social connectedness a community norm
On September 23rd, we'll be diving deeper into the discussion around systemic drivers of social isolation and community-level recommendations for action to co-create solutions for social isolation.
In our new world, we must work with the intention to reconnect our economy, to reconnect places and spaces, to reconnect with others and for our health.
Awareness of the link between social connection and health is becoming more prominent, more strongly so than smoking or obesity. This link to health is discussed with Tamer Soliman, producer and director of The Great Disconnect film and Dr. Trevor Hancock in Cities Deepening Community's latest podcast: Social Reconnection as a Solution for Health, building off the momentum around social prescription and a recent Angus Reid report on loneliness and isolation, citing a 'monumental shift' in Canadians' social behaviours since the pandemic, leading to worsening mental health for many.
As we move toward recovery, the power of human connection has never been more clear. Join us on October 5th to explore together opportunities for community connection, where will be hosting a special viewing of the Great Disconnect as we launch into our event Reconnect! Making Community Essential. Register here and get exclusive access.


Further Your Learning: