I had expected the Tamarack Conference would offer me specific actionable items to further Synapcity's work in neighbourhoods. What I hadn't expected was the provocative challenges put forward to me as a person and as a professional. I imagined my takeaways to centre around the community level of change, but I was surprised to leave with a deeply personal reflection: if I intend to act as a meaningful contributor to my community, both the system and my role within the system require reimagining.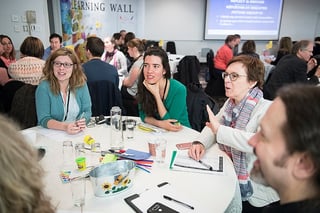 As inspiration for our systems, Montreal offers a unique governance structure which brings together the public service and civil society to further social development at a grassroots level. La Coalition Montrealaise des Tables de Quartier is comprised of 30 neighbourhood roundtables for residents and decision-makers in local contexts. These tables offer a permanent local forum for neighbourhood issues, identify collaborative opportunities across neighbourhoods, and use participatory processes to create shared ownership over solutions. The Coalition receives permanent joint funding from the Montreal Public Health Directorate, the City of Montreal, and United Way Montreal. This structure moves past 'collaboration as a result' to drive urban planning, healthy transportation, food security, commercial development, and much more.
Ottawa's social services are supported by Community Health and Resource Centres, a strong and responsive network of local organizations also funded by the City of Ottawa, Ottawa Public Health and United Way Ottawa. Where are the similarities and differences between the two cities and how might we learn and adapt from Montreal's governance structure? What opportunities might there be to design beyond the constraints of project- based funding and increase supports for holistic approaches to community development?
As inspiration for our role, Michael McAfee, President of PolicyLink, focused on our personal selves in service to community. He pushed participants' thinking: what are we contributing on an individual basis that makes up the whole? As a professional in civil society, how can we objectively examine how we show up as a person in community, and how can we always strive to do better? How might we transcend the daily activities of our job descriptions in service to the bigger picture?
Synapcity envisions for Ottawa an inclusive culture of participation and civic purpose. Our city is made up of 108 neighbourhoods, each unique and each facing competing priorities. How do I, as Program Director, maintain the responsivity to community contexts while still driving overarching results that are meaningful for transformational change? And how can I, as an individual committed to community, examine how I show up at every meeting so that I may be able to contribute to systems level change?
Thank you to Tamarack for the unexpected. I have a lot to think about.
Laine Johnson
Program Director
This blog was originally posted on Synapcity on June 21, 2017 by Laine Johnson, and is re-posted here with permission.