Meet Laura and Jorge, our Community Climate Transitions team
Hello! We are thrilled to be part of the Tamarack community! We recently had a coffee conversation in which we shared some reflections on why Community Climate Transitions, what it means to join the Tamarack team, and experiences that have shaped our thinking on equity and climate.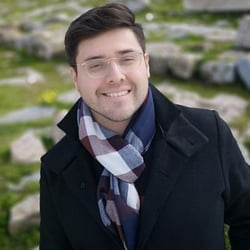 Why did you choose to embark on Community Climate Transitions?
Laura: The climate crisis is the issue of our time and one that needs to be solved in a way that promotes justice, equity, and wellbeing for all. We need everyone on board right now, working together across our differences to set a common vision and develop transition plans at the local level.
Jorge: According to UN Secretary-General António Guterres, cities around the world are responsible for more than 70 percent of greenhouse gas emissions. As an urban planner, I believe that contributing to climate action is imperative for any city maker who wants to build more equitable and regenerative places for all living beings to thrive. My engagement in Community Climate Transitions is one of my main actions toward achieving this vision.
What does it mean for you to join the Tamarack community?
Laura: For me, joining the Tamarack community (and its 38,000+ active learners) is about driving change from the bottom up and connecting community change efforts across the country and around the world.
Jorge: Joining Tamarack means being part of a network of learners in which deep relationships and community-led innovation can flourish.
What are some of the experiences that have shaped your thinking on equity and climate?
Laura: Working in social innovation and systems change (both at the McConnell Foundation and with the federal government) helped me to become more of a systems thinker, deepening my appreciation of tackling root causes, using collective impact, and striving for societal transformation.
Jorge: This past year made me more aware of the choices we make and how they affect our lives and our surrounding environment. Exponential View by Azeem Azhar has also been a reality check on equity and climate, and a critical reminder of the urgency to act.
If you could envision one aspiration for our collective future, what would it be?
Laura: Ensuring a habitable planet and thriving communities for future generations.
Jorge: Canada becomes a global model in which the rights of nature are embedded in legislation and enforced across the country.
Connect with us
Laura: laura@tamarackcommunity.ca
Jorge: jorge@tamarackcommunity.ca
Follow us on Twitter
@laura_schnurr, @jgarza321
Join the conversation
Join us for our upcoming events: SDG Localization workshop on August 24 and webinar: A Guide for Advancing the Sustainable Development Goals in Your Community on September 1.
Learn more