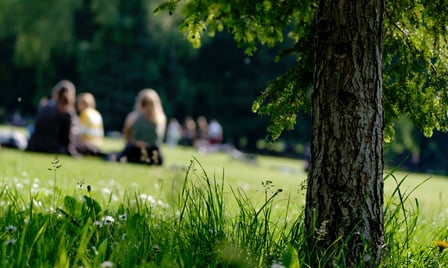 "While we are connected in new ways electronically, I think that sometimes comes at the expense of personal connection and that is a big challenge" – Dr. Trevor Hancock
5 years ago, the Tamarack Institute wrote about a film crew seeking to examine community connectedness and the important role it plays in our lives, health, and well-being. With contributions from Tamarack's Co-CEO Paul Born and Dr. Trevor Hancock, this award-winning documentary, "The Great Disconnect" was launched. Since its official launch in October 2019, the film has screened across Canada through multiple municipalities, non-profits, educational institutions and NGOs, and has been shown in ten countries across Europe. This film invites reflection on the relationships we have with those around us and raises the question: Is it possible to overcome our modern culture of disconnectedness and rediscover how truly essential we are to one other?
As we entered a year of the COVID-19 pandemic, this film has reaffirmed the trends that were in play before physical distancing and lockdowns were our "new normal". Reports like the Angus Reid Report on Loneliness stated that the percentage of those saying they have a good social life has dropped from more than half in 2019 (55%) to just one-in-three (33%) in 2020. With an increased sense of loneliness experienced by many, we are looking to imagine new ways to connect post-pandemic.
In March, we were joined by the film's director, Tamer Soliman, and Dr. Trevor Hancock to revisit the impacts of the film and imagine our lives post-pandemic, what can be known as the Great Reconnect.
Here are some of the key questions from our episode, Social reconnection as a solution for health:
What role does connection play in the health of Canadians? We discussed the difference between social isolation, loneliness and solitude. Our conversation explored questions around how each state of being impacts our health.
How we are able to currently connect in a meaningful way with supporting the Great Reconnect? Our discussion focused on trends around disconnection that were increased due to the pandemic and ways to build an authentic connection.
How can we build better connections as Neighbors, organizations and at a city/town level? The conversation included stories of creating a culture of care and how to build momentum around forming connections to yourself, others and nature.
Have you seen any creative initiatives that would help to create the "Great Reconnect"? Whether it is physical distancing fitness groups, virtual paint nights, or dance parties email me at dan@tamarackcommunity.ca, if you have any stories that you want to share. As we look to reimagine how we gather, we hope you join the social movement to reconnect.
Get up-to-date information on the Great Disconnect film by subscribing to www.thegreatdisconnectfilm.com. You can also host a screening in your community visit https://thegreatdisconnectfilm.com/watch-now/. On October 6th and 7th 2021, Deepening Community is hosting Reconnect! an online event dedicated to exploring ways of reconnection in community. Register today at https://events.tamarackcommunity.ca/reconnect-register.
Become involved with Cities Deepening Community