The 2017 Cities Reducing Poverty Summit: When Business is Engaged event, hosted by the City of Hamilton, is fast approaching and I can barely contain my excitement that this event is literally happening in our backyard. We've got a significant contingent going this year and I look forward to sharing this inspiring learning opportunity with my members and volunteers.
The Halton Poverty Roundtable (HPRT) is five years old this year. As the longest serving staff of this collective impact movement, I have had the privilege of witnessing close up, the evolution of our work, the growing community engagement, and the true power of collaboration to amplify our ability to address some of the root causes of poverty. Our membership in Tamarack's Cities Reducing Poverty network is a vital lifeline to best practices, deeper learning opportunities in collective impact, and is, frankly speaking, one of the most generous networks I've ever been a part of.
The spirit of Cities Reducing Poverty and Tamarack is one of empowerment, building on each other's successes and experiences, and an optimistic sense that with each victory achieved in one of our communities, success becomes that much more possible for the rest of us, regardless of the complex social problem our communities are working on. I know that I can pick up the phone or send an email to members of our network, even if I haven't had a chance to meet them yet, and ask for advice, insight or support on something our community is grappling with. Collaboration truly at it's best.
In the spring of 2015, Tamarack hosted their first Cities Reducing Poverty Summit in Ottawa. Five members and staff from the HPRT drove down for the week long event. I had just had my second daughter so wasn't there personally, though I heard from everyone about what a powerful learning opportunity the Summit was and how pumped people were with ideas and inspiration. While in Ottawa, our team met with Collette Murphy, Executive Director of the Atkinson Foundation. As a result of this meeting, Colette came to Halton that fall to talk about community wealth building opportunities. Toronto's work on Community Benefits Agreements came up during her presentation and a spark of interest was ignited in our community as a result of this community conversation.
Ian Troop, a member of the Halton Poverty Roundtable, and past CEO of the 2015 Toronto Pan Am Games, realized that he and his team at the Pan Am Games had experience with what was now being called Community Benefits Agreements. We took this seed and nourished it with further conversation, applied for funding from Trillium, and were successful. In early spring 2016, I returned from maternity leave with a mandate to explore the possibility of launching a local social procurement and community benefits agreement effort.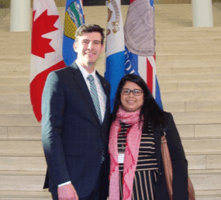 Tamarack's second Cities Reducing Poverty Summit: When Mayors Lead was held in Edmonton last April. This summit was phenomenal;
27 municipal and regional governments were directly represented
11 Municipal/Regional Poverty Reduction Strategies were presented
During the conference, #MayorsPovertySummit was in the top three for trending topics in social media in Canada
I came back from this conference with a host of new connections and a tenacious determination to focus more on engaging our local political leadership in a dialogue on a place-based poverty reduction strategy. I was also determined to work for closer engagement on the strategies the Halton Poverty Roundtable network has been working on to eliminate poverty in Halton.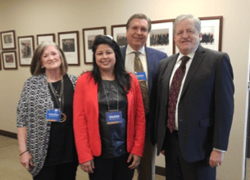 Along with HPRT members Barb Chilwell, a business woman and member with lived experience of poverty, and Ian, (now the co-chair of our emerging Community Benefits Agreements and Social Procurement work), we went to visit the Mayors in our region; Mayor Rob Burton in Oakville, Mayor Rick Goldring in Burlington, and Mayor Gord Krantz in Milton. We also work closely with the Halton Region, one of the founding members of the HPRT.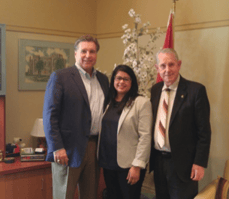 During these meetings we discussed the 'Cities Reducing Poverty Summit: When Mayors Lead' conference, the learnings that came from the summit (we shared a copy of Ten: A Guide for Cities Reducing Poverty with each Mayor), the possibility of a place-based poverty reduction strategy, and specifically, the opportunity that our community benefits agreement work could represent for deeper municipal engagement.
While this process does continue today, Mayor Rob Burton has since become a champion of our Community Benefits Work, and is focused on entrenching our work in municipal policy, namely Halton's Community Safety and Wellbeing Plan, which is currently in development. Mayor Burton was also recently elected as the Chair of the Halton Region's Health and Social Services Committee, which will enable him to further champion the work of anti-poverty in our community.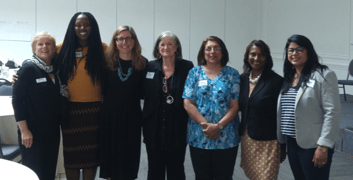 As a part of our plan to determine if there was appetite in Halton to launch a focused and cross-sector effort on community benefits agreements, we organized a learning and consultation. We invited Colette Murphy back to talk about the role of Anchor Institutions in driving community benefits agreements and social procurement policy, Denise Andrea Campbell, Director of Social Policy, Analysis, and Research from the City of Toronto who presented on the city's Social Procurement Policy (Denise was in my learning pod at the Summit in Edmonton and she also presented on the City of Toronto's Poverty Reduction Strategy) as well as Steve Shallhorn, who presented on the work of the Toronto Community Benefits Network.
The event was well attended and attendees represented perspectives of people with the lived experience of poverty, government, business, community organizations, etc.
From this event, the HPRT convened what is today an active, cross-sector, and engaged Community Benefits Network of Halton. Our Network's mandate is to engage, educate, and accelerate the activation of Halton community stakeholders to explore and implement social procurement policies and community benefits agreements for the purpose of generating significant social impact through procurement and infrastructure spends.
In preparation for this year's Summit, members of our Community Benefits Network of Halton, along with members of the Team at the Atkinson Foundation, who have funded us for our work for the next 18 months, are currently collaborating on a workshop presentation for the April 2017 Summit.
Take Your Learning Further