When Tamarack was founded back in 2002, the use of technology in the non-profit sector was very different. Online communication was far less interactive and responsive, and navigating the world wide web was done almost exclusively at our desks, not on-the-go from our smartphones. Fast forward 14 years, and now Tamarack is an Institute in its adolescence – a little more mature, a little less inexperienced, still fascinated with the possibilities that technology brings to the work we do. What have we been doing all of this time?
We have:
Launched multiple domains to support tamarackcommunity.ca, including vibrantcommunities.ca and deepeningcommunity.ca: two of our most important campaigns with communities of practice trailblazing the path towards poverty reduction and more resilient communities;
Experimented with online communities, to provide members of our learning community with interactive spaces -- including tamarackcci.ca to engage in important dialogues about working collaboratively. In this space, practitioners from around the globe can meet and share useful resources and experiences;
Produced more than 100 informative webinars and podcasts featuring inspirational and innovative thought leaders in the field;
Joined three social media platforms, allowing us to connect and interact in real time with rapidly growing communities of inspiring, grassroots and professional change makers.
What hasn`t changed? Our commitment to community change. From the beginning, our hope has been to create an Institute that would deeply understand community change, and help organizations and citizens work better together for a collective impact. Technology may be complicated, but the challenges communities face everywhere are the most complex - from climate change to economic inequality to disruptive innovation. As we have been exploring since the inaugural Community Engagement: The Next Generation workshop, we see technology not as an answer for community, but rather as a tool that has the ability to make our work more efficient and effective and helps us ask more informed questions.
One question we are constantly asking ourselves is: How can we better support our learners as they face these complex challenges?
Change is at the centre of our work and we have made some major changes ourselves in order to support our learners and make your work easier and more effective. This summer we are proud and excited to unveil our brand new online home! At www.tamarackcommunity.ca, you will find: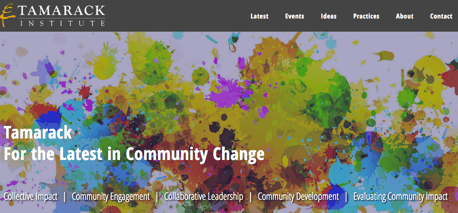 We knew our old website needed a facelift and a reimagining of how to bring you the latest tools, resources and thinking for community change. After all, our job is to make your work easier and more effective. But, if you have ever launched a new website, you will know it is no easy feat. Admittedly, we have felt a bit nervous along the way. Change can be exciting yet nerve-wracking at times – what will our Learning Community think of this change? Does our new site do the trick? We'd love your feedback so that we can continue to refine it in order to ensure we are doing everything in our power to support you and the incredible work that you do. Fill out this short survey to let us know your thoughts or use the Tell Me More tab on the bottom right hand side of our homepage.
Learn More:
Share this article: