According to the Institute for Sustainable Communities there are four elements of a sustainable community:
Leadership, civic engagement and responsibility

Ecological integrity

Economic security

Social well-being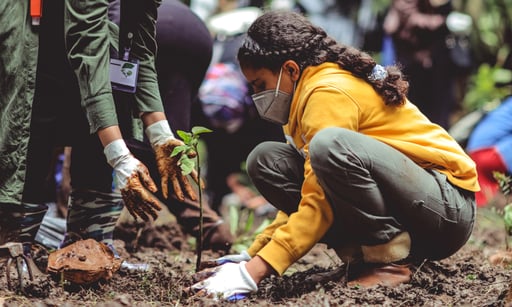 A sustainable community makes choices that simultaneously enhance or maintain the wellbeing of both people and ecosystems while not placing unbearable burdens on future generations. To achieve this vision all of society needs to adopt sustainability as a core value to guide decisions and actions.
Municipalities not only play a key role in making ambitious climate targets possible. They generate social, environmental and economic benefits for communities, which are not mutually exclusive. This requires cooperation and collaboration from all levels of government, citizens and civil society.
From October 20-22nd I had the pleasure in joining the Sustainable Communities Conference hosted by the Federation of Canadian Municipalities (FCM). With an inspiring line-up of speakers over the three-day event, much of the conference shared conversations about infrastructure and approaching it with a sustainability lens while boosting local ambition.
If there is one major lesson emerging from the experience of COVID, it is the opportunity for disruption and to build back better. We learned that innovation is all around us, many cities and communities across Canada are doing incredible things and were doing so long before COVID hit. Municipalities must also be able to continue to commit to core services amid a crisis.
Municipal leaders talked about building back greener, more sustainable communities, creating more liveable and equitable cities. The public has shifted and changed in terms of what is important, and what is needed to live well. Though some improvements have been made, they have not benefited people equally. What if everyone was enabled to make the healthy choice, the greener choice? Cities can address climate goals while applying multiple lenses for equity, transformation and wellbeing. The Sustainable Development Goals are being integrated into city plans. We have seen rising demand for space, safe community areas and public parks. The transforming of public spaces has been gaining traction during the pandemic out of necessity, but how can we ensure this keeps going beyond the pandemic?
We heard many discussions around resilience in the face of the immediate and long-term challenges. Resilience is not just about preparedness for emergencies or acting as a rubber band and adapting to the new normal, it is not just about bouncing back but bouncing forward. This must include embedding equity and investing in the human infrastructure. But not everyone understands what equity means or how to operationalize it. How can we ensure the resiliency of communities as we work to ensure more equity. diversity, justice and inclusion?
It begins when we see it in the leadership around us. It about heart-felt leadership and disrupting power structures. It is about building capacity of leaders on the ground and giving power and voice to diverse communities, and recognizing one's own convening power.
Key Takeaways
We can address problems together.

We can apply more than one lens to sustainability at the same time.

Transforming challenges means turning them into opportunities; the pandemic is an opportunity to rebuild and make life better, moving forward in a more sustainable way.
Take Your Learning Further: