This resource is also available in French. Click here to access the French version.
The National Climate League (NCL)'s 2021 Standings, released today by Climate Reality Project Canada (CRPC), ranks how sustainable and inclusive Canadian cities are across a range of indicators, aligned with the Sustainable Development Goals. This is the fourth year that the Standings are being released, and this year's report includes an expanded number of municipalities compared to past years.
The 2021 Standings analyzed 551 new data points submitted from 66 municipalities and regions in all 10 provinces and two of the territories, for a total of 2,639 data points analyzed (all of which are available in the NCL Stat Tracker).
Which cities were selected as this year's winners?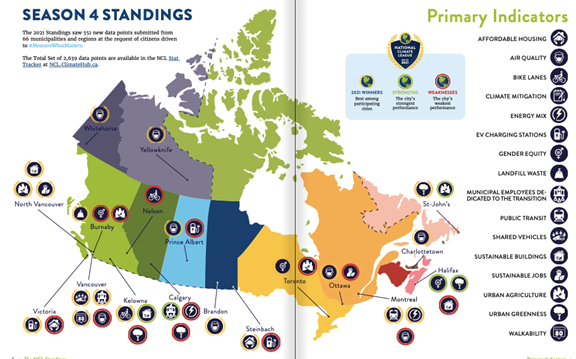 Source: The National Climate League
Several of the 19 communities participating in Tamarack's Climate Transitions Cohort were among the 2021 winners, including the following:
Kelowna: Best city for Bike Lanes
Kelowna has 246 km of bike lanes per 100,000 residents. The city's Transportation Plan states that the city is against building more roads and includes an objective to quadruple the number of trips made by cyclists. This strategy supports the health and wellbeing of residents in addition to helping drive down emissions.
Montreal: Best city for Energy Mix and Public Transit
Montreal leads the way on two key indicators. Because the provincial electricity grid is operated by Hydro-Québec, a world leader in hydropower, Montreal's energy mix is quite sustainable, with 93% from hydro power and 5% from wind. Montreal is once again the winning city for public transit, thanks to an extensive bus and subway system that boasts high rates of ridership and accessibility.
Ottawa: Best city for Air Quality
Ottawa was among the six cities that tied for best air quality, and the only mid-sized or large city in the top spot (the others are Brandon, Charlottetown, Prince Albert, Whitehorse, and Yellowknife). Policies that improve air quality include phasing out coal, shifting away from fossil fuel-powered transportation, and protecting forests against wildfires.
Toronto: Best city for Gender Equality
Toronto has seen consistent yearly increases in women's representation in leadership roles within the City itself and has the smallest wage gap of all municipalities in Canada, with women earning 1% more than men.
Victoria: Best city for EV Charging Stations
With 126 EV charging stations per 100,000 residents, Victoria wins in this category. Through its Electric Vehicle Strategy, it will continue to expand availability of stations in the coming years.
Why these rankings matter
Many Canadian cities have made commitments to reach net zero emissions, by 2050 or sooner. This goal must be pursued through a social and equity lens, advancing all 17 Sustainable Development Goals in tandem. Tracking and comparing our successes, strengths and weaknesses across a host of key indicators is key to holding ourselves accountable to our lofty goals.
The data in this report is a powerful advocacy tool, as individuals can use the results to push for local action by lobbying local governments to improve in areas where they are lagging behind. The Standings are also a great source of information around sustainable policies that may provide inspiration for your own community.
Take your learning further