In this blog post, Dan Ritchie discusses the value of breaking out of silo thinking when it comes to municipalities partnering with communities.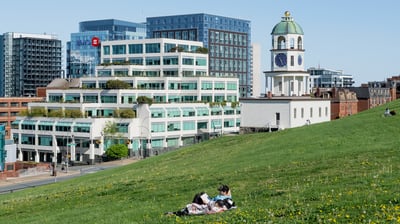 "Growth is inevitable and desirable, but destruction of community character is not. The question is not whether your part of the world is going to change. The question is how."

– Edward T. McMahon



On October 6 and 7, 2021, as part of our online event RECONNECT! Making Community Essential, participants joined one of four unique masterclasses to explore and share insights on how to reconnect their communities. Taking a total of seven hours, we learned from top thought leaders and peer groups.

Partnering with Community
One of these masterclass courses was Innovative municipalities strengthening community and building resilience led by Jim Diers.

With over 40 years' experience connecting neighbourhoods and residents, Jim led 70-plus participants in conversations through Zoom. Attendees learned how to build the case for partnering with community and were introduced to practical tools and examples to help their work in taking a resident-led approach.

With participants attending from different sectors from across the country, our lessons focused on bridging the gap between community groups and municipalities. As municipalities are faced with growing demand to address challenges around social isolation, we need to shift the way citizens and their municipalities co-exist.

One of the key take-aways from our masterclass was recognizing the different roles of agencies and communities while partnering so we can work beyond silos.

Agencies and Community
"There are really two tools for meeting people's needs and one of those tools is community and the other tool is agencies. While community often is described as a group of people who truly identify with and support one another, agencies are often more formalized."

– Jim Diers


Our agencies tend to focus on services where communities focus on providing care. With trends towards increased roles of agencies, there needs to be a response of reconnecting the role and significance of citizens and community.

Below is a list of characteristics from agencies and community that Jim presented to the workshop:
| | |
| --- | --- |
| Agencies | Community |
| Services | Care |
| Professionals / Volunteers / Clients | Citizens |
| Top-down | Democratic |
| Focus on needs | Focus on gifts |
| One way | Reciprocal |
| Siloed | Holistic |
| Depends on money | Depends on relationships |
During our masterclass, we worked together to define the roles of agencies and communities. We then went into smaller groups to reflect on how we show up as either citizens or professionals.

One participant said, "We can no longer depend on the systems and the organizations to be the stewards of our wellness it's up to us to take a role and not only look at municipalities as responsible for people's wellbeing." For this reason, we need to shift towards empowering community and revisiting the role of municipalities.

Partnering Beyond Silos
Another key take-away from our masterclass was a shift away from silo thinking.

Along with understanding roles in reconnecting community, agencies are organized into silos with a particular focus on their particular mission and particular function. As we silo issues in community such as transportation, housing and racism, it does not leave space for us to see the relation between these complex and overlapping problems.

One participant a challenge in their municipality being "integration, because everybody is trying to take on their own expertise, like the police services, with all these intersecting issues and there is a need for integration from departments."

What Will You Stop Doing?
While we define the roles of agencies and communities, during our sessions Jim shared a story of how a mentor once asked him the question, "What are you going to stop doing?" This question stuck with me after the event was over.

With a tendency as so-called professionals and specialists, we often have a drive to act and lead. So, now, I'm curious: What are the things that you are going to stop doing? How are we removing or creating the barriers to partner authentically with community?

Through our masterclass, we gained an understanding of our role as citizens or those looking to enable reconnection in cities and towns. I would love to hear how your municipality has shifted their role to better work with your community.
Further Your Learning: