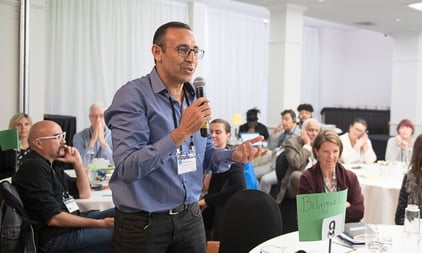 Over the last two weeks, there has been a theme that has resonated across different meetings and presentations that I have attended and facilitated. Tamarack supported a series of workshops hosted by the Ontario Trillium Foundation with Michael McAfee, President, PolicyLink. These workshops, in London, Toronto, Kingston and Ottawa were an opportunity for organizations to consider how to more effectively engage their community partners. Michael pushed participants to consider clarifying their community change approach. He told them if they did not have a clear, evidence-based understanding of what it was they were working to change, they were spinning their wheels. This is critical when you think about community engagement. Purposeful engagement means that you know what you want to engage others around. You put your stake in the ground. It does not mean that there is no flexibility, but if you have done your research, and have your evidence, it is easier to engage others. The engagement is focused and driving toward change.
The next week, in conversations with the Greater Vancouver Food Bank (GVFB), this notion of setting a stake in the ground repeated itself. The GVFB is entering into a strategic planning phase and spent two days consulting with internal and external stakeholders about the broader food system and their role in it. The conversations were rich and deep. The GVFB proposed an idea of defining their 'stake in the ground' or stance. There was a resounding yes from all in each room.
Those of us that work in the voluntary sector often resist claiming too much space. We know that our organization is a small part of a bigger system and sometimes we bias in favour of the bigger system. Perhaps, to sort through the complexity, setting out our stake creates clarity, space and the ability to engage others more proactively. What is your stake?